The Evolution of Connected Communication with Bob Boster of Clear-Com
It seems today as if everyone and everything is using Communication technology. From the broadcast studio to the control room, houses of worship, and theme parks, digital communications are one of the most vital pieces of technology for effective operations. Bob Boster, President at Clear-Com, understands the need all too well. Clear-Com is an industry leader in providing digital communication solutions, and as Booster tells it, they live and breathe communications every day.
Theme parks stuck out in host Ben Thomas' mind because he recently visited a theme park and was surprised to find Clear-Com technology in operation at one of the park's new rides. And this example points to the convergence of opportunities for digital applications of regular communications solutions that are tried and true, migrating to other verticals due to the ease of installation and lower cost to scale. "You have both local and global IP connectivity coming into play," Boster said. "And also, people expect wireless to be everywhere because they carry these devices around with them."
People expect and need real-time communication no matter the venue, arena, or service. It's no longer a nice to have; it's a must-provide. And the right communication solutions can help businesses do more with fewer people, which is imperative in today's worker-shortage climate. "And then things are pulling apart," Boster said. "The distances of production teams. Some people are doing stuff from home, some people doing stuff from remote operations somewhere in the park, or the entity, or theater; all those people needing to interact together to produce stuff."
Clear-Com tries to bring in solutions that fit existing communication hardware so businesses don't have to replace what they have. "That building block mentality allows us to help somebody scale or design a solution is the way we tend to work," Boster said.
Latest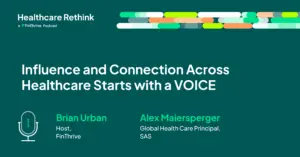 September 29, 2023
In the latest episode of the Healthcare Rethink podcast, presented by FinThrive, host Brian Urban sits down with Alex Maiersperger, the Global Principal Healthcare at SAS. Their conversation charts the role voice plays in influencing and connecting the healthcare industry. Maiersperger, who co-founded the Advancement League, shares his journey from being a healthcare optimist to […]
Read More