The Next Generation of Smart Hardware in Residential AV
In this episode of Pro AV Today, host Ben Thomas explores the ever-changing landscape of residential technology. His guest, Scott Stephenson of Hunter Douglas, talks about the transformation of once-simple peripherals into essential smart home elements. Stephenson offers insights into how non-traditional peripherals like window shades, thermostats, and lighting systems have found their way into the core of residential technology.
Years ago, AV focused dealers and integrators used to shy away from categories like automated window shades. But as Stephenson points out, these have become an integral part of their business now. Recent statistics confirm that once such elements are proposed for a project, they're the least likely to be eliminated even if budget constraints arise. The talk also extends to other components like energy management, affirming that the industry continues to evolve and expand its offerings.
Ben Thomas notes the influence of the hospitality industry, where automated shades and other technologies have been commonplace for a while. These luxury technologies are now trickling down to individual homeowners, driven partly by consumer demand.
Another trend highlighted is how many dealers are making more money from selling lighting and shades than traditional audio-visual elements. Stephenson believes that this shift is because these elements are not just technological add-ons but are fundamental parts of a home. As homeowners contemplate their budgets, they're unlikely to think about eliminating essentials like lights or shades.
Both Thomas and Stephenson agree that the industry's growth and diversification are exciting to watch. They suggest that as technologies become more ingrained in daily living, we'll continue to see a convergence of commercial and residential applications, effectively blurring the lines between what is considered essential and what is considered luxury.
Latest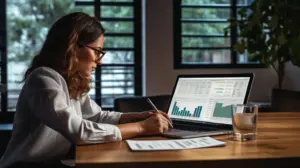 October 4, 2023
The intersection between security and financial acumen often gets overshadowed in a constantly changing economic landscape. While security is essential for safeguarding assets and ensuring continuity, its perceived monetary value is mired in misconceptions affecting company profitability. For many, security is viewed primarily as an expense rather than a potential cost-saver. However, understanding […]
Read More