3 Tips for Starting Your own B2B Podcast
In recent years, podcasts have become a primary communication tool for B2B companies. From industry thought leadership to education, there's a podcast for just about every interest. It's natural to want to start your own. But where do you begin? Here are three tips to help you get started.
1. Define your audience and goals  
Before you start recording your podcast, you need to define your audience and goals. Who are you trying to reach? What do you want them to know? What action would you like them to take? Without a clear understanding of these things, you'll have a hard time creating content that resonates with your listeners.
Take the time to think about your ideal listener. What are their interests? What problems do they have that you can solve? Once you have a clear picture of who you're trying to reach, you can create content that speaks directly to them. Also clearly identify the action that you want them to take after listening. Is your show a lead gen tool or pure thought leadership? Make sure you call your audience to action.
2. Talk about what you know and be specific
When it comes to podcasting, authenticity is key. People can see through inauthenticity, so it's important to talk about what you know and be specific. Don't try to be something you're not or pretend to have expertise in an area that you don't. Instead, dig into the niches. There are riches in niches, so find an area that you're passionate about and that you have a unique perspective on.
Offer unique insight that can't be found anywhere else. This could mean being vertical specific or leveraging your own expertise. If you can offer your listeners something they can't get anywhere else, they'll keep coming back for more.
3. Leverage your guest's expertise and networks
Your guests are your secret weapon when it comes to podcasting. They allow you to not have to be the expert on every topic. When you're booking guests, look for people who have expertise in areas that you don't. This will allow you to provide your listeners with a wide range of perspectives and insights.
Once you have a guest on your show, make sure to leverage their expertise and networks. Have your guest share the episode across their networks. This will help you reach new listeners who may not have found your podcast otherwise. Additionally, give your guest the embed to post on their site as well. This will help you reach an even wider audience.
Starting your own podcast can be a lot of work, but it can also be incredibly rewarding. By defining your audience and goals, talking about what you know and being specific, and leveraging your guest's expertise and networks, you can create a podcast that people will love. So what are you waiting for? Start recording!
—
Be sure to check out Ben's show Pro AV Today.
Latest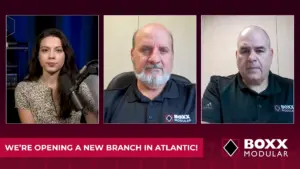 December 4, 2023
In an era where construction innovation is reshaping the industry, modular construction's growth continues to rise. In this episode of Built Modular, Boxx Modular's strategic expansion into Moncton, Atlantic Canada takes center stage. Host Gabrielle Bejarano welcomes Charles Landry and Ray Girouard to explore the implications of this venture. Bejarano, Landry, and Girouard discuss […]
Read More