E4 Experience Brings Together Pro AV Stakeholders to Explore, Engage, Educate, and Expo
The E4 Experience, hosted by Almo Professional AV and AVIXA, brought together pro AV and IT stakeholders on November 30 in Dallas. The 4 Es represent: Explore, Engage, Educate, and Expo. The event brought together industry experts and professionals to network, view demos of products, collaborate, and learn.
Here's a quick review of featured products and feedback from attendees.
Tom Roberts, AV Distribution Account Manager at Jabra, showcased the PanaCast 50, a new-normal-ready intelligent video bar. It offers a 180-degree field of view with Panoramic 4K. It includes speakers and microphones, as well. Roberts said, "It's plug and play for conference rooms."
David Tewksbury, Sales Support at Harman, attended E4 and was happy to meet Almo customers, walk them through products, and expose them to new things. "We may uncover something they didn't even know we had or was possible."
Also attending was NETGEAR. Cody Kleven, Pro AV Business Development Manager, highlighted the M4300 and M4500, a series of high-performance, flexible switches engineered for AV over IP. "They have a customized UI. They're easy to use, and the ports can go on the front or back."
Nancy Knowlton, President and CEO, Nureva, Inc., was excited to attend this regional show and see the turnout. She demonstrated the HDL300, which has 8,192 virtual microphones for full-room coverage. The device offers rich, clear playback for spaces up to 25' x 25'.
The company also presented a new product. "We're introducing the Nureva XT for hybrid classrooms."
The product combines full-room audio with a classroom camera for a flexible learning experience.
The Barco UniSee platform in its second generation was on display at the event. Eric Ewing, Sales Engineer, was in attendance and noted the new evolution has basic improvements in mechanics with panels remaining perfectly in place. Of the event, he said, "A regional show like this (allows us to effectively) meet local customers and talk to them about products and options."
Watch the recap video to see more scenes from E4 and hear from the attendees.
More Stories Like This:
Latest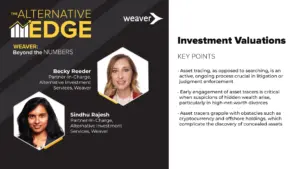 December 4, 2023
In this episode of The Alternative Edge, a Weaver: Beyond the Numbers Podcast, host Becky Reeder, an audit partner and co-leader of the alternative investments practice at Weaver, engages with Sindhu Rajesh, an Alternative Investment Services Partner with Weaver. They unpack the complexities of venture fund valuations, offering critical insights into industry dynamics and best […]
Read More