Why AV Integrators Don't Want Electrician's Licenses: Ratified
This episode of Ratified is trying something new; a considerably more niche topic. Whereas the last two went a little larger in scale, hitting on gig economy legislation in California and the state of net neutrality, this episode of Ratified is a look at the nitty gritty legislative back and forth of lobbying in the telecom and AV industry.
Joining Daniel to provide context and perspective is Chuck Wilson, Executive Director of the National Systems Contractors Association, and Keith Kempenich of the North Dakota House of Representatives, representing District 39.
In 2019, legislative sessions introduced new language that would've either subtly or drastically changed the dynamics of licensing requirements for electricians and tangential industries, like AV and telecom. Lawmakers looked around at technology they thought was new, or at least now more relevant in these industries, and decided it was time to rework licensing around low-voltage lighting, IoT devices, and power over ethernet. This language was meant to keep everyone safe and adjust legal language for the times.
If only it were that simple. The different state bills immediately turned the heads of AV industry professionals, and not out of excitement. Listen to the full episode to hear how this battle turned out and get the different perspectives from individuals on both sides of the issue.
Latest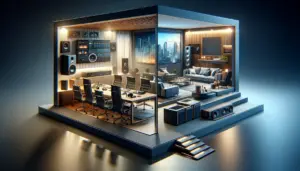 November 27, 2023
In this episode of "Pro AV Today," host Ben Thomas sits down with Audra Kinsley of Sonos Professional to unpack a topic that's causing (sound) waves in the audio industry: the fusion of commercial and residential audio systems. As we navigate through a landscape where consumer and professional audio worlds are increasingly intersecting, Sonos steps […]
Read More