Why is Obstruction Lighting a Critical Part of the Broadcast Industry?
Obstruction lighting is an essential component of any tall structure, including cell towers. These lights are used to warn aircraft pilots of the presence of the structure, especially at night or in low visibility conditions. In the broadcast industry, cell towers play a critical role in delivering audio, video, and data to consumers, and obstruction lighting on these towers is equally critical. Here are 4 reasons why:
Safety: The primary role for obstruction lighting is to ensure the safety of air travel. When a cell tower is erected in an area with low visibility conditions, or if the tower is taller than surrounding structures, it poses a significant risk to low-flying aircraft. Obstruction lighting on the tower serves as a warning to pilots to avoid the structure and fly safely.
Compliance: The Federal Aviation Administration (FAA) requires all structures over a certain height to have obstruction lighting. Failure to comply with these regulations can result in severe fines and legal penalties. Compliance with FAA regulations is critical for broadcast companies that rely on cell towers to transmit their content to consumers.
Reliability: When cell towers are obstructed or damaged, the transmission of audio, video, and data can be disrupted or halted entirely. Obstruction lighting plays a critical role in ensuring that cell towers are not damaged by aircraft, and thus, broadcasts can continue without interruption.
Reputation: The broadcast industry relies heavily on consumer trust. Interruptions in service due to a lack of obstruction lighting on cell towers can damage a company's reputation and lead to a loss of customers. Broadcast companies that prioritize safety and reliability by ensuring their cell towers have obstruction lighting build trust with their consumers and increase their brand reputation.
For more on the role of obstruction lighting in the broadcast industry, watch the above episode of Pro AV Today as host Ben Thomas and Jim Jacoby of TWR Lighting share their thoughts.
—
Jim Jacoby, President of TWR Lighting, the industry leader in obstruction lighting, monitoring, installation and service. Jim has a long standing history of fostering company growth, spearheading new product development, strategic planning and market penetration. With over 30 years of experience, Jim specializes in establishing the strategic direction, aligning the organizational design to meet the strategic plan, with a focus on customer acquisition & retention, while facilitating and guiding the company operations and supply chain to ensure all company growth and profitability goals are met.
Latest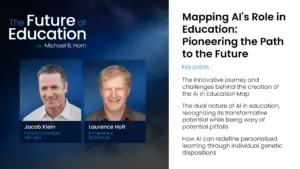 October 2, 2023
Mapping AI's role in education should be a critical step in bringing together innovative technology-based solutions with the expertise of human educators. With rapid advancements in artificial intelligence and an increased reliance on technology-driven educational solutions, the education landscape is on the brink of a significant transformation. AI promises highly personalized learning experiences, efficient administrative […]
Read More