Albertsons Cuts its Delivery Workforce: What This Means for Gig Workers & Grocers
The second largest grocery chain in the U.S., Albertsons, has officially ended its in-house delivery program for select locations, with plans to partner with third-party delivery programs like DoorDash.
This comes after a major push from Albertsons to classify grocery workers as "first responders" during the pandemic. Though some delivery workers may get transitioned to new positions at Albertsons, the company has also begun cutting its workforce across its Tom Thumb Texas locations.
MarketScale's Daniel Litwin spoke with Veena Dubal, Professor of Law at UC Hastings, to better understand whether the move by Albertsons is linked to increasingly lax labor regulations for gig work standardized in California, the economic incentives motivating national grocery chains to cut their workforce, how Albertsons's move reflects labor trends in the grocery industry, and how grocery workers, unionized or not, should respond in a post-COVID and post-essential worker economy.
Below is an excerpt of the conversation. To hear all of Dubal's insights, listen to the full episode.
DL: At a general level, what do you see as the overall consequence of a move like this by Albertsons?
VD: I think we can understand this shift as a way to lower labor costs. Many, many businesses have faltered as a result of this pandemic. Grocery stores are not one of them, so it's very clearly a move to take workers who have been employed with unemployment insurance, workers' compensation, and health insurance and instead use workers who have none of those things. … I think that they understand that the passage of Prop 22, in some ways, means that the tide is shifting with regard to the company business model. They have a lot of faith in this model. They are not worried about being sued as a joint employers in this context. And so they've taken the leap. But it's really important, again, to remember that this is happening in a context where a company is not faltering. Albertson's does not need to lower their labor costs at this moment. They just can. And that's the problem that we have that advocates and critics. This is what we've been arguing all along — if you create a way for these companies to lawfully use independent contractor labor, which we now have in California as a result of Prop 22, then they're going to do it.
Follow us on social media for the latest updates in B2B!
Twitter – @MarketScale
Facebook – facebook.com/marketscale
LinkedIn – linkedin.com/company/marketscale
Latest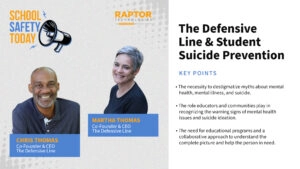 September 22, 2023
Student suicide prevention is a paramount concern among mental health providers. For one organization, student suicide prevention is more than a concern: it's their mission. The alarming rise in mental health crises among youth has become a pressing concern in recent times. With the complexities of modern life and the challenges of the digital […]
Read More