Aldi & Walmart Cutting Prices: Strategies for Grocers to Balance Profit Margins With Customer Loyalty
Carol's Thoughts:
Executing price cuts on Thanksgiving could be seen as a super risky move. But there are several reasons why these price cuts are no sacrifice for Walmart. Price cutting and grocery in particular allow Walmart and Aldi to reaffirm and reassert their price leadership. The discounts also drive traffic both online and in-store. Walmart and Aldi are helping to ensure that they get a bigger slice of the overall holiday shopping pie. As a multi-category, multi-channel retailer, Walmart has more room to move and groove. And that means that more consumers will shop in their stores more frequently.
Aldi has that same advantage but to a much lesser degree. Aldi is still seen by most shoppers as primarily a grocery retailer. They've been making some pretty big moves to change that, launching new apparel, and collections, and making sure they're just bringing in the newness and the treasure hunt aisles, which are of course filled with surprises during the holidays.in products.
Ultimately, all of these are big profit plums, and that means that Aldi can also play that game. So Aldi and Walmart will win with these Thanksgiving price cuts as competitors cave. It's a very multifaceted strategy and I think it's going to pay off for them.
Latest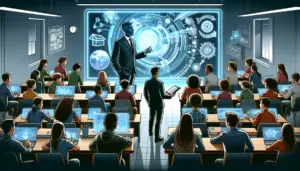 November 27, 2023
In an era where education stands at the crossroads of tradition and innovation, the potential value of thought leadership becomes the guiding star for progress. "Just Thinking" dives into this potential with host Kevin Dougherty and guest Evan Edwards, a Professional Learning Specialist at 806 Technologies who exemplifies the transformative impact of visionary guidance […]
Read More