Amazon Grocery Stores Are Struggling. Experts Say They Were Unprepared to Handle Grocery's Thin Margins.
Amazon went big and bold with its diversified brick and mortar strategy when it bought Whole Foods and launched cashier-less Amazon Fresh and Amazon Go stores across the U.S. Turns out this may have been a miscalculation for the e-commerce giant. Amazon's CEO, Andy Jassy, speaking on the company's fourth-quarter earnings call, revealed that the company would delay opening more Amazon grocery stores until they figure out how to differentiate them from established competitors in the market. This action came after the company's growth results showed figures that were significantly below what they saw during and shortly after the pandemic.
According to the report, Jassy also claimed that the company was ready to "go big" on brick-and-mortar stores and blamed a lack of normalcy during the pandemic for a series of missteps. He said Amazon is close to finding the solution and hopes to be back opening stores sometime this year.
Jassy's remarks demonstrate that, despite Amazon's announcement a year ago that it would concentrate on grocery sales and shut down its bookstores, they are yet to dominate the industry since its acquisition of Whole Foods in 2017. So why are Amazon grocery stores struggling despite the grocery market being a strong spending category generally? Lesley Hansell of Riverbend Consulting, small business consultant and expert Amazon seller, breaks down her takeaways from Amazon's grocery pullback.
Lesley's Thoughts:
"Amazon is sending out some mixed messages about the grocery category. So not long ago, the new CEO, Andy Jassy, said they are doubling down in grocery. Now it turns out that they are actually pausing development of some of their Amazon fresh grocery stores and shuttering some locations that they don't think really have the opportunity to survive and thrive in the current economic circumstances. So why is Amazon having such a rough time in grocery?
Well, I've got a few theories. One is they thought that Whole Foods would give them the foothold that they need in the grocery category. But Whole Foods is not for the average consumer. Whole Foods is higher margins, more expensive products, premium products, and that isn't the model for Amazon Fresh, which is for a more average grocery customer.
Secondly, let's go back to those margins again, grocery stores traditionally survive on very thin margins. Amazon does not have a history of surviving on thin margins. That is not what the FBA program is about. It's not what AWS is about. And here they are having to compete against Walmart and other grocery retailers who already have consumers in their pocket.
People want to go to those local stores to touch and feel the produce and the meat and there's a big switching cost here to go to some new store that you're not familiar with. A lot of folks never embraced Amazon's grocery business online because of the premium pricing and not being able to choose produce. As long as they can't figure out that model and how to do this business on thin margins, it's going to be a while before they're expanding the way they originally intended."
Article written by Sonia Gossai.
Latest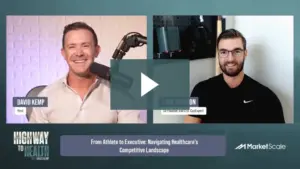 September 28, 2023
Navigating healthcare's competitive landscape requires innovative solutions addressing care quality and affordability. CapExpert is a game-changer in outpatient healthcare. It enhances asset management, ensuring the best care for patients. Luke Johnson, Co-Founder and CEO of CapExpert, spoke with Highway to Health's David Kemp on how CapExpert enhances asset management, bridging visibility gaps and streamlining […]
Read More