Cowboys QB Ben DiNucci Turning Dallas Streetwear Upside Down with True Brvnd
In 2022, a business partnership can be created with just a simple direct message on social media. For True Brvnd, a streetwear and hat company based in Dallas, TX, that's exactly how things played out. One April afternoon, co-owner Sang Truong was sitting comfortably in front of the TV, watching the last day of the 2020 NFL Draft, when he saw the Dallas Cowboys select a quarterback in the seventh round out of James Madison University. That quarterback was Ben DiNucci, eventual co-owner of True Brvnd and the face of the emerging merch company. Truong, a fan of DiNucci's Instagram posts and presence, decided to take a leap and make himself known to DiNucci in the form of a business pitch. Truong slid into his DMs about a business idea for community-centric merchandise for the city of Dallas.
"I was sitting in my hotel room during camp last year, saw a bunch of notifications come up from True Brvnd like, 'what is this.' So I clicked on it, first thing I saw was the upside-down Dallas and I said, 'this is interesting.' Upside down you can tell it says Dallas, but it is going to make you look twice," DiNucci said.
The simple but clear design choice was created with current events in mind, representing the "upside-down" times many were facing during the height of the COVID-19 pandemic. From the start, the brand made its purpose the goal of connecting with the city of Dallas. With hats representing the area's various sports team's colors, and with other collaborations with iconic buildings and symbols in the area like the Reunion Tower, Bronco Bowl and Dallas' official mascot the Pegasus, Truong was on a mission to give Dallas a street wear brand that left an impact and built worldwide recognition for the intersection of Dallas' sports, fashion, and historic communities.
"There wasn't a huge stable brand in Dallas recognized, there are a lot of brands I respect in Dallas but they don't have that global recognition, so we wanted to establish something that was Dallas' true brand," Truong said.
DiNucci and Truong hit the ground running with their partnership and drew up a game plan that not many brands can boast: an active player on America's most valuable sports franchise, the Dallas Cowboys, as the face of the brand. The duo have been utilizing DiNucci's status to help spread the word about the brand, and throughout the season, the hat really picked up steam amongst DiNucci's teammates, as star players such as Miach Parsons, CeeDee Lamb, Trevon Diggs and several others were seen wearing the hat both at practice and at press conferences. Arguably the biggest name to support True Brvnd was the brand's biggest fan, Dak Prescott, the starting quarterback for the Cowboys. At the beginning of the season, Prescott ordered 50 different hats from the company, which he wore constantly throughout the season. This allowed DiNucci and Truong to make marketing strategies around the Cowboys' social media accounts to draw in new interested customers.
"He is kind of the first one that said, 'hey this thing is really cool, I love this' and wore it a bunch during the season, press conferences, to the plane, trips, and that whole aspect took it to another level, to the Cowboys posting on their Instagram, four million followers, Dak walking to plane with a hat on," DiNucci said. "We refreshed twitter and got 100 new followers saying what is that hat and I go into the comments, Sang goes into the comments and comment at True Brand, people see that and they are directed to our page, and I think just the word of mouth and how we have kind of been able to use social media to our advantage for marketing has really helped us."
For Truong and DiNucci, marketing through social media is their bread and butter play. But like any agile football professional, they also had a trick play up their sleeves that they used before the start of the 2021 season: utilizing DiNucci's air time during HBO's series Hard Knocks, which featured the Dallas Cowboys during their 2021 training camp. With DiNucci being a focal point of each episode, he made sure to wear a True Brvnd hat when he wasn't in a helmet and shoulder pads. The two saw visibility from the show come to fruition during the season's second episode, when various new customers flooded their site seconds after the episode aired.
"I was sitting there watching it on Tuesday night, then all of a sudden I just see a bunch of sales coming through on the Shopify [app], and I am like, 'what's going on, we didn't drop anything, we have no stock,' and then all of a sudden I click it and we have like 150 people in the store," DiNucci said.
Even though Truong and DiNucci believe they have a solid outreach and marketing plan to push their brand to Dallasites and new street wear fans, they believe the brand speaks for itself. The formula for success, they said, is developing something that is not only aesthetically pleasing, but centered around an idea that customers at home and across the globe can rally around.
"If you are going to go out there and create a brand, create something the community can stand behind and resonate with, a lot of the community stand within the specific city, especially Dallas," Truong said. "We stand behind the Cowboys, we stand behind the Mavericks and also the Stars, so a lot of these major teams, there is a huge community behind it, but at the same time the business around it as well, staple pieces that recognize the city. Any brands that are trying to start up, if you are really wanting to create something for your city, pay homage to that city."
Other Business Ventures By DiNucci
True Brvnd isn't the only brand DiNucci has a hand in, nor is Dallas the only city that he's sought to pay homage to through street wear. Last year DiNucci released limited edition flip flop slides with iSlide which showcase both the Dallas Cowboys and James Madison University, where he finished his college career.
The idea of the slides is twofold: to represent both the cities of Harrisburg and Dallas, and to give back to JMU. The slides feature the state of Virginia and the state of Texas, coupled with a cowboy boot and hat to represent the Cowboys and a bulldog to represent JMU's mascot. $5 of each sale goes towards a scholarship for under represented students studying Sport, Recreation and Hospitality at the Hart School of JMU created by the Women of Sport and Recreation Management, a Hart School student organization.
"I am kind of forever in debt to JMU, they gave me a second chance and if it wasn't for being able to go there, I don't think I would be sitting here right now. So blessing in disguise, I owe the world to the city of Harrisburg," DiNuccci said.
The overall goal is to tie two cities together and create a market between JMU alums that want to support the school and, in turn, support the Cowboys. DiNucci says there is a lot of crossover with JMU alumni in the DFW area and he is excited for his business future. He believes, between this project and True Brvnd, it allows him to explore business avenues to build a career and a community impact outside of his sport.
"That community, that city, has been a huge supporter of me, and being able to pivot off that into Dallas where I have made my home for the last two years, being able to do this with Sang and True Brand has been awesome, has made my brand work in a different way. I think it is completely different from football, I get to kind of tap into my creative side and see where this thing goes," DiNucci said.
Latest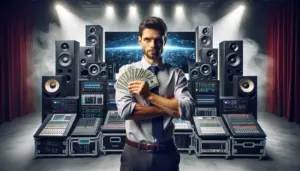 December 8, 2023
Mastering AV sales strategies in a global professional audio-visual (Pro AV) market, poised to reach $79.2 billion by 2028, requires much attention to detail. The surge in demand from corporate, government, and institutional sectors, driven by the need for enhanced productivity and efficient working environments, gives AV sales pros a lot of opportunity. In […]
Read More