Breaking Down WGSN's Consumer Marketing Insights from Cannes Lions
Cannes Lions is where creative excellence shines. The International Festival of Creativity, held since 1954, is where the world's top-ranking agencies, brands, and creatives gather to share and collaborate. After a two-year festival hiatus due to the Covid-19 pandemic, the Cannes Lions roared again.
WGSN, a leader in consumer insights, was there at the festival to learn more. So, what has the industry been up to that will help shape the future? 
Joe McDonnell, Director of WGSN Insight, attended the conference and provided host Christine Russo, host of What Just Happened?, with a ringside seat to all the happenings of the festival and the fantastic creative consumer marketing trends making headways. One brand trend is the utilization of virtual ambassadors or digital influencers/avatars to launch their campaigns globally. 
Russo and McDonnell touch on several highlights from Cannes Lions: 
The strategy behind brands utilizing virtual influencers

 

The role AI plays in creating and deploying virtual influencers

 

How the creatives campaigns and ideas relate to commerce

 

 
"It's about trying to join the dots between everything from data through the culture," McDonell said. "Seeing something inspirational, whether it's a session or a piece of work, thinking that model or that piece of tech, or that consumer insight is exactly what we need in our business or with our clients." 
McDonnell is an experienced marketing, communications, content, and partnership leader. As the current Director of Insight at WGSN, the world's most prominent trend forecaster, McDonnell's responsibilities include managing a team of 17 experts who create strategic content and research exploring innovations across the marketing, consumer, retail, gaming, and innovations space.
McDonnell provides expert commentary as a forecaster for the BBC, Bloomberg, Telegraph, Times, Guardian, US Chamber of Commerce, CGTV, Vogue, and WARC, while also being a keynote speaker at Cannes Lions, Outdoor Retailer, and SXSW. 
Latest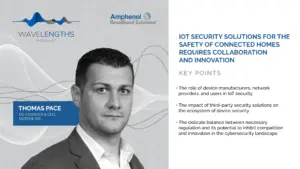 November 28, 2023
Since the introduction of smart devices, the world has increasingly become dominated by interconnected devices but IoT securitydemands are also growing. The "connected home" has shifted from what was once a futuristic concept to reality. With the global smart home market projected to reach $135.3 billion by 2025, the conversation around the security of these […]
Read More