The Current Landscape of Retail & What to Do About It: Bricks and Clicks
Shoppers are homebound in what is currently a voluntary isolation. Within the past week toilet paper, paper towels, pain relievers, masks and more are completely out of stock. Online is sold out too. We are weeks out, best case scenario, at being able to replenish our pantries.
I know that every morning I personally wake up believing that this must just be bad dream. But it's not. The entire nation is dumfounded that this is our new reality. Some are saddened. Some are scared. Others angry, worried, lost, or anxious.
On this episode of Bricks & Clicks, I want to talk about why NOT to put all of your eggs in one basket, and 5 ways to protect your brand through creating a multi- platform selling strategy.
References in Podcast:
http://theagame.online/
Latest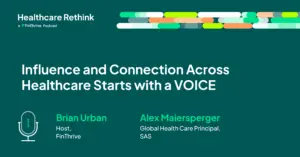 September 29, 2023
In the latest episode of the Healthcare Rethink podcast, presented by FinThrive, host Brian Urban sits down with Alex Maiersperger, the Global Principal Healthcare at SAS. Their conversation charts the role voice plays in influencing and connecting the healthcare industry. Maiersperger, who co-founded the Advancement League, shares his journey from being a healthcare optimist to […]
Read More