Data Collection Boosts Retailers, But at What Cost?
A full plate of data is what is fueling retailers' appetites. With so many ways to collect it related to their customers, it's a buffet of insight.
Retailers are insatiable when it comes to consumer data because they know it delivers results. In a recent Deloitte Digital report, retailers that experienced at least a 10 percent revenue increase focused on data at least twice as much as underperformers. [1]
Retailers did not reach that increase by just collecting any piece of data. They look at with a 360-degree, omnichannel approach. Retailers know customers' online history-what they viewed and what they bought. They know which discounts have been used with loyalty cards in-store. They also know how consumers engage with the brand on social media.
 A private detective falls short when compared to the data collection practices of retail.
However, with all this data comes great responsibility to keep it safe. Time and time again, retailers have been the victim of breaches and are the leading industry for them, which is not a top spot any segment wants to hold. With so much personal data like credit card numbers and Social Security numbers, retail data is full of valuable finds for those that seek it.
While 2017 had a record high 1,579 breaches according to the ID Theft Center. [2] This year, thus far, does not appear to be settling down, but retailers are arming themselves with better tactics and tools because they know the data they have needs to be protected.
These breaches have not necessarily been bad for business. However, there are bruised reputations to deal with and the need to win back trust. To do this, many retailers are being very transparent about what they are doing to keep data safe. A little communication can go a long way.
The capacity for data will never be satisfied for retail. Businesses need it to fuel their AI-engines that give them the ability to personalize messaging, optimize inventory, and improve in-store experiences and merchandising.
Ultimately, retailers want to do what they can to both alleviate the concerns of consumers while also continuing to collect data, as its significance in every channel of retail makes it something they just cannot do without. This drive will be the catalyst for improved data security standards for their industry and beyond.
[1] https://www.deloittedigital.com/us/en/blog-list/2018/consumer-experience-in-the-retail-renaissance–how-leading-brand.html
[2] https://www.idtheftcenter.org/2017-data-breaches/
Latest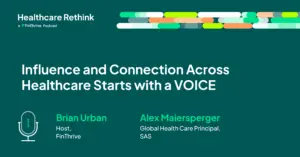 September 29, 2023
In the latest episode of the Healthcare Rethink podcast, presented by FinThrive, host Brian Urban sits down with Alex Maiersperger, the Global Principal Healthcare at SAS. Their conversation charts the role voice plays in influencing and connecting the healthcare industry. Maiersperger, who co-founded the Advancement League, shares his journey from being a healthcare optimist to […]
Read More