Disruptor Meltdown? Steve Dennis Explains a New Retail Paradigm
The average consumer today can acquire his or her groceries, wardrobe and furniture on-demand, at their front door for a lower price than ever before. Delivery and e-commerce have fundamentally changed consumer behavior, but these disruptors could be in store for a new challenge themselves.
Sageberry Consulting Founder and Forbes Senior Contributor Steve Dennis recently published an article titled Retail Apocalypse? Maybe it's Time to Worry About a Disruptor Meltdown which explained why unprofitable disruptors like Wayfair may not be long-term participants in the retail industry.
"It's really unclear what they would have to do to be profitable other than to stop marketing so much, and raise their prices, in which case will consumers like them as much?," Dennis explained.
While disruptors backed by venture capital investment have enjoyed the ability to offer lower prices and discounts that traditional sellers have not, Dennis believes those customer incentives still do not build legitimate customer loyalty.
"The bigger issue, more broadly, is the cost of acquiring customers. And it turns out it's extremely expensive to build a brand online of any size," Dennis said.
Latest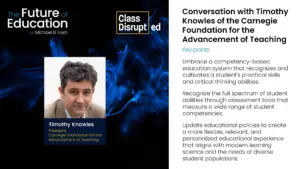 December 4, 2023
What approaches must education take in advancing teaching in a post-pandemic world? How can traditional education reshape itself to include a more dynamic, skills-based learning approach? As educational paradigms shift towards nurturing adaptability and critical thinking, leaders in the field are poised to redefine the learning framework to prepare students for a rapidly evolving […]
Read More