How B2B Brands are Using E-Commerce to Win
How E-Commerce Fits into the Business to Business (B2B) Marketplace
The Business to Business (B2B) marketplace has been slow to adapt to e-commerce. However, it is estimated that more than 13 percent of all B2B sales in the US will soon be conducted digitally. That number is expected to grow as more purchasing managers come to expect the convenience and benefits of e-commerce processes.
The State of the B2B Marketplace and E-Commerce
There are several reasons that B2B e-commerce is not as common as business to consumer (B2C) digital sales. Differences in the breadth of audience, average price point, and the sales funnel all predispose B2B interactions to tend toward interpersonal exchanges.
However, B2B buyers are increasingly accustomed to making purchases online. Customers- want the same benefits for business shopping as they do for personal purchasing. This is increasing with more professional buyers being millennials who are familiar with e-commerce.
How E-Commerce Benefits for B2B Companies
Some of the benefits of e-commerce for B2B transactions include streamlined tracking, real-time inventory management, being able to automate preferences and processes, etc. For B2B buyers familiar with e-commerce, it's simply more efficient to make purchases online (since that's where many business processes now occur and are tracked anyway.) However, the efficiency of e-commerce for these buyers is dependent on B2B businesses offering effective and secure websites, apps, and/or software.
B2B Companies Who Succeed In E-Commerce
Several B2B companies are harnessing the advantages of e-commerce and booming in their fields. Having a website serve as an example offering B2B purchasers a practical way to make decisions anytime and anywhere through great content, recognizable branding, and trustworthy customer service, brands can stick out online.
By connecting a website to software that offers analytics and connects to marketing platforms, brands can integrate multiple aspects of B2B sales to increase efficiency.
Latest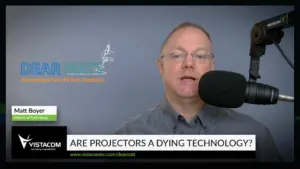 December 4, 2023
Are projectors a dying technology? In today's rapidly evolving landscape of display technology, one might assume that projectors could soon be a thing of the past. Not so fast, thinks Vistacom's Director of Technology, Matt Boyer. In this Dear Matt segment, Boyer, a seasoned expert with over three decades in the AV industry, looks […]
Read More