Is This Retailer Revolutionizing Faster Than the Industry Itself?
The story of Walmart has many incredible chapters. Its origin as a small chain in rural Arkansas to its growth as a global powerhouse is nothing short of remarkable. By 1990, it had become the largest U.S. retailer by revenue, besting other iconic discount stores. Currently, it is the largest retailer by revenue in the world according to Forbes.
While other similar stores have faced bankruptcy or huge declines in store numbers, Walmart has mostly thrived, currently operating 11,277 stores in 27 countries. The competitive landscape has changed, causing Walmart to adjust, embracing technology and customer convenience. Walmart's biggest current adversary is Amazon, and Walmart has been answering, as one of the only retailers with the means to rival the e-commerce giant.
The New Age of Competition
Being able to compete with Amazon has meant new initiatives including free shipping when shoppers spend $35, the option to pick up groceries, and the ability to shop online and pick up in store the same day. These practices have paid off, as Walmart just announced its third-quarter results, which showed growth for the 11th straight quarter.
One way in which it has been able to compete is through the acquisition of e-commerce platforms, like Jet.com, which it bought in 2016. At this point, its e-commerce profits are still a fraction of Amazon's, at $11.5 billion and $108 billion respectively.
While Walmart understands the need to be highly competitive with Amazon online, they are still improving the in-store experience with merchandising changes, including wider aisles, interactive displays, and goods being more accessible to shoppers.
What's Next for the Walmart Shopper?
Walmart U.S. CEO Greg Foran has planned a technology-rich shopping experience for shoppers as well as having stores play a bigger role in the distribution, becoming hubs for online order fulfillment. Walmart is continuing its drive to embrace technology with more training for employees, so that they can use robots and other automation tools.
The brand is also using pickup towers that hold online orders for retrieval in many stores. Customers can also get around stores easier with maps on the retailer's smartphone app.
New ways to checkout easier are on the way as well. For the holiday shopping season, Walmart has a program that arms employees with a device to check out shoppers on the spot, paying with a card, and provide them a receipt. This new program was piloted during Black Friday to help alleviate wait time, which is a huge frustration for customers.
Is Free Shipping the Answer?
While these efforts are changing the dynamic of the brick-and-mortar experience, Walmart is still feeling the heat from Amazon. Bain & Co. forecasts that Amazon will capture half of all e-commerce by the end of 2019. It is possible that if Walmart cuts its shipping fee, it could grab some Amazon customers that do not have Amazon Prime memberships. Shipping costs can often be a reason for cart abandonment, so if Walmart does ship everything for free in the future, this initiative could improve its e-commerce numbers.
The Future Is Technology
Walmart has a unique perspective when it comes to growth, simply because it has shown an understanding of the need to use technology to enable a better shopping experience, whether online or in-store. It has also long been collecting data on customers and analyzing it to find patterns and trends, allowing the brand to personalize messages to customers as well as understand what is popular in each individual store so it can stock properly.
Experimental technology, customer benefits and in-store experiences are all signs that the brand is trying to forge a new path in the era of e-commerce. What Walmart does next will be analyzed by the entire retail industry, and even businesses outside of it. It is sure to be another page-turning chapter for the 56-year old brand.
For the latest news, videos, and podcasts in the Retail Industry, be sure to subscribe to our industry publication.
Follow us on social media for the latest updates in B2B!
Twitter – @RetailMKSL
Facebook – facebook.com/marketscale
LinkedIn – linkedin.com/company/marketscale
Latest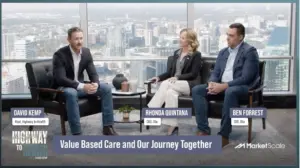 December 7, 2023
As of recent times, the healthcare industry has been progressively shifting towards value-based care, a model that emphasizes patient outcomes over the quantity of services delivered. This transition represents a significant shift that promises to enhance patient experiences and outcomes while controlling healthcare costs. With a growing emphasis on this approach, especially over the […]
Read More