Target Pledges to Hire More Black Employees Over the Next Three Years
Target Corp recently pledged to increase diversity throughout their retail company, focusing on hiring and retaining black employees. Target's publicly released data showed black employees made up 15% of their workforce last year, according to StarTribune. In the next 3 years, Target aims to increase that by 20%, with a special focus on presenting black employees with opportunities for growth and leadership.
On this Business Casual snippet, hosts Daniel Litwin and Tyler Kern consider the rippled effects of Target's well intentioned move. Is hiring more black employees the most valuable investment in the black community? What can Target and other big retailers do to help the black community without encroaching upon it, as Walmart did in Chicago?
KEY POINTS:
Target pushes for more diversity throughout its company with new public pledge.
Though Target's workforce is more diverse than the national population, positions of leadership are less so.
In what ways can corporate entities invest in and support black communities?
Latest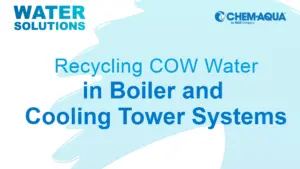 December 7, 2023
For the latest episode of ChemAqua's Water Solutions podcast, the focus was on an innovative approach to water conservation in the dairy industry. The show examined the potential of reusing Condensate of Whey (COW) water, a byproduct of dairy processing, and highlighted some of its economic and environmental benefits. Hosted by Dani Waddell, the informative […]
Read More