The Modernization of Clienteling: Retail Refined
The Retail Refined podcast is designed to challenge the industry's preconceived notions and sit down with retail's biggest names to understand the brand strategies that will define the next decade in retail.
With the evolution of the store, it has now become table stakes to invest in a modernized POS system- one that can be in service of contactless payments, omni-channel retail and clienteling. Having seen demand by brands and retailers to take the step to modernize skyrocket, CEO and Founder Nitin Mangtani speaks to Melissa about how to create a modular system that truly empowers store associates and allows them to flex across channels to better serve customers. Hear why he alludes to the Nordstrom meets Apple experience as he paints the picture of his long term vision of the shopping experience.
About PredictSpring
PredictSpring is a leading Modern POS platform connecting the online and in-store customer experience and enables sales associates to engage with customers by offering highly personalized interactions and fast and efficient transactions. PredictSpring Content Management System (CMS), is a no-coding mobile commerce platform enables retailers to create a full on brand customized experiences. Designed exclusively for brands and retailers, its innovative technology powers Modern POS, native consumer mobile apps and store associate apps including Clienteling, Endless Aisle, and mPOS.
More About the Guest
A visionary and pioneer in the mobile commerce sector, Nitin Mangtani is the Founder & CEO of PredictSpring, an innovative mobile commerce platform. Prior to founding PredictSpring, Nitin led the Google Shopping merchant and search infrastructure team, scaling Google Shopping product to hundreds of thousands of retailers. Most recently, Nitin founded Google Retail Promotions to optimize mobile conversions. Prior to joining Google, Nitin was a founding member of data infrastructure group at BEA from 2001-2006. BEA was leader in application platform market and was acquired by Oracle for $8.5 billion.
What Melissa Asked
Why stores need to invest in their technology in replacing legacy POS's.
The main value of the sales associate in the 'new retail normal', the role of the consumer-sales associate and how the relationship is changing.
Many shopper-associate relationships are purely digital now. Why associates need to adapt their behavior to create those strong relationships, especially if they lose the in-person element.
Why clienteling is important and what will comprise a strong clienteling strategy, post-pandemic?
What will retail experience will look like in a post-COVID-19 world.
How can retailers maintain the high quality shopping experience their consumers have come to expect while following social distancing protocols?
How can retailers and brands safely create a personalized experience for their consumers from afar?


Latest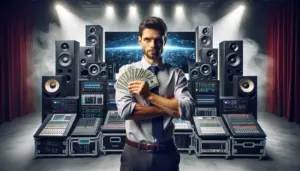 December 8, 2023
Mastering AV sales strategies in a global professional audio-visual (Pro AV) market, poised to reach $79.2 billion by 2028, requires much attention to detail. The surge in demand from corporate, government, and institutional sectors, driven by the need for enhanced productivity and efficient working environments, gives AV sales pros a lot of opportunity. In […]
Read More