Walmart Introduces Unlimited Grocery Delivery Option for $98
Walmart is rolling out its unlimited grocery delivery option nationwide, with the company hoping to reach 50% of the country by the end of 2019. For $98 a year users can receive unlimited grocery deliveries to their homes.
In this excerpt from Business Casual, Daniel Litwin and Tyler Kern discuss the merits of the plan and whether this is enough for Walmart to cut into Amazon's share of the grocery delivery game.
Tune in to MarketScale Radio LIVE every Wednesday and Friday morning at 8 a.m. CT for Business Casual with Tyler Kern and Daniel Litwin. From interest rates to eSports – we'll be talking all things B2B.
Latest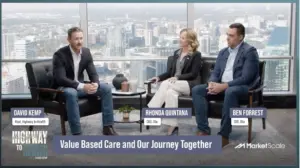 December 7, 2023
As of recent times, the healthcare industry has been progressively shifting towards value-based care, a model that emphasizes patient outcomes over the quantity of services delivered. This transition represents a significant shift that promises to enhance patient experiences and outcomes while controlling healthcare costs. With a growing emphasis on this approach, especially over the […]
Read More