How Tecsys is Innovating to Meet Consumer Demands
Tecsys provides supply chain management solutions to assist businesses in managing their operations in a way that is streamlined and effective. These solutions encompass a range of services, such as warehouse management systems, transportation management systems, order management systems, and supply chain analytics. Their cloud-based platform is both scalable and flexible, catering to businesses of all sizes. But what are some of the biggest challenges retail and logistics companies face when managing their supply chains, and how does Tecsys help address them?
On today's episode of the What Just Happened, host Christine Russo speaks with Guy Courtin, Vice President of Industry and Advanced Technology, Tecsys Inc, to talk about the ways Tecsys' supply chain analytics solutions provide businesses with valuable insights into their operations, and how those insights can be used to drive improvements and savings.
Courtin's core advice: we think of retail from the Supply chain moving to the consumers. One way it does this is by offering a suite of solutions that enable retailers to manage their inventory and orders more efficiently, regardless of the channel the customer uses to make a purchase. This enables them to fulfill orders more efficiently and offer customers a more seamless and personalized shopping experience.
"We are doing a lot of work in automation and robotics, but how do we bring some of our partners in when those discussions are out there?" said Courtin. "I'm not buying robotics, and I don't want to be a hardware company. I want to be able to bring solutions to the table on my platform."
Courtin and Russo also discussed…
● The innovations Tecsys has been leading and driving
● The new things put in place for this innovation in retail
● How does Tecsys ensure that its cloud-based supply chain management platform is scalable and secure for businesses of all sizes?
Courtin continued "We've got a lot of very good solutions that we can bundle together to this platform, and let's talk about what it is from the retailer's perspective that is the biggest challenge today in potentially tomorrow."
Guy Courtin is a seasoned supply chain expert with decades of experience in the technology and supply chain space. Currently serving as Tecsys' vice president of industry and advanced technology, Guy holds an MBA in Management from the Olin Graduate School of Business, a Master's in International Relations from Loyola University Chicago, and a bachelor's degree in Political Science from the College of the Holy Cross.
Latest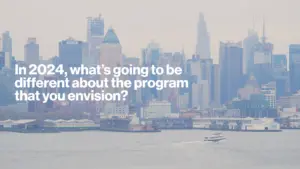 December 1, 2023
In the dynamic telecommunications landscape, Verizon's Partner Network continues to evolve, adapting to new trends and opportunities. For another segment featuring Mark Tina, VP of Indirect Channel Distribution and Channel Chief at Verizon Business Group, he explores exactly what types of significant changes and advancements the Verizon Partner Network will see in 2024. In this […]
Read More