What Retailers Should Focus on This Inflationary Holiday Season
Lisa Miller, President, Lisa W. Miller & Associates shares with us what retailers should focus on to ensure the inflation grinch doesn't steal this holiday season.
Lisa's Thoughts:
What can retailers do to make sure the inflation Grinch doesn't steal this holiday season? From our research, consumers are looking to you, the retailers, not just for the presence that they need. They're looking to you for a much bigger need, which is they're looking for a joyful experience. They're looking to get into the holiday spirit, and in fact, did you know that over half of Americans are actually excited and happy about this holiday season?
And that's actually up 11 points from last year. So joy is in the air, but what the consumers are telling us, is it's not that joyful out there when they're out there shopping. So what can you do to deliver joy this holiday season? It needs to start with your employees. How can the consumer have a joyful experience shopping if your employees are kind of frazzled and grumpy?
So I challenge you to think about how can you deliver joy to your employees this holiday season. What can you do to make their experience better? And I promise you that what you'll find is that when you. Joyful employees, you will win the hearts, loyalty, and share of wallets from consumers this holiday season.
So make joy your differentiator.
Latest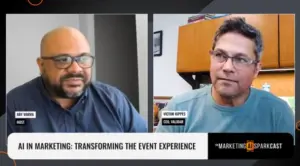 November 28, 2023
AI has been gradually changing the landscape of event technology at a very rapid pace. In an industry where staying ahead of technological trends is crucial, AI's impact on marketing and event management has become increasingly significant. As witnessed in the rise of account-based marketing and enhanced personalization, AI is effectively reshaping how events […]
Read More