When Brick-and-Mortar Fails, Enter Dave & Busters
Many brick-and-mortar retail spaces are struggling to keep stores open. According to Coresight Research, 7,000 retail stores closed in 2017, and thus far in 2018, there have been 4,100 closings.[1] The number of bankrupt retailers continues to grow as well with Toys "R" Us, Nine West, and Bon Ton among the biggest brands to file.
Even successful retailers are still seeing location closes, as many more consumers are embracing online shopping. There are still plenty of shoppers who want to purchase in-store, but research from Big Commerce suggests that 52 percent of Americans prefer to shop online with 96 percent having made at least one e-commerce purchase.[2]
With competition at every turn, stores are closing, leaving hundreds of thousands of square footage in its wake. So, what happens when a store closes?
The mechanics of a store closing depend a lot on what the space will be converted to—another store or re-envisioned as something outside of retail. More often than not when companies close stores, due to bankruptcy or other economic hardships, they are using junk removal companies. After the inventory is gone, everything else needs to be cleared out.
Junk removal company Junk Raider, located in Charlotte, N.C., has seen an uptick in business around retail cleanouts.
"Even though Charlotte has a strong economy, retail stores are still closing. In 2018, we've already provided services to several retailers. When retailers leave a space, they are looking for a quick clean out, where we take everything," Junk Raider founder Ted Bullard said.
When a retailer closes, change happens fast.
"Sometimes it happens very quickly. Their employees are often gone by this time so it's convenience. Most of the time the new spaces don't want any remnants from the old occupiers, so it's got to go. We donate a lot of stuff and recycle whenever we can, too," Bullard said.
Oftentimes, retailers leave town without taking their inventory with them.
"We donate most anything that has value and recycle anything that fits into the category," Bullard said of materials taken out of closed retail stores.
Once these are cleaned out, many will house new stores from retailers that are expanding, including dollar stores and off-price brands. Owners of the space realize the negative impact of leaving these spaces empty, so they are more inclined to be creative in how to repurpose the spaces.
When there are no retail takers, these spaces can be reimagined into spaces that businesses need including offices, banks, health clubs, and spa services.
Another idea for repurposing retail spaces, that also draws in crowds, is entertainment venues. Entertainment brands like Dave and Buster's are filling large retail spaces, making the location more of a destination. These spaces are also being converted into indoor play areas, which gives kids and parents a compelling reason to shop and play.
As e-commerce grows, retail locations will continue to feel the effects. The entire shopping ecosystem has changed dramatically and so has the look of the modern mall. Evolving to meet buyer preferences is the key for spaces to find new life.
[1] http://coresight.com/news_categories/store-closures/
[2] https://www.bigcommerce.com/blog/ecommerce-trends/
Latest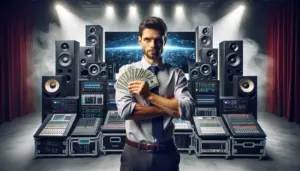 December 8, 2023
Mastering AV sales strategies in a global professional audio-visual (Pro AV) market, poised to reach $79.2 billion by 2028, requires much attention to detail. The surge in demand from corporate, government, and institutional sectors, driven by the need for enhanced productivity and efficient working environments, gives AV sales pros a lot of opportunity. In […]
Read More