Will Better Supply Chain Visibility Solve California's Dock Problems?
There is a bevy of ships vying for the same docks on the West Coast. From Los Angeles to San Francisco, ships park off the coast for long periods. At times, around 40 ships have been stopped for nearly a week with almost 14,000 containers.
What are these bottlenecks doing to the supply chain? How is this affecting businesses in California and nationwide?
Voice of B2B, Daniel Litwin, chats on Marketscale TV with Adam Compain CEO & Co-Founder of ClearMetal, a SaaS platform for international freight visibility, about supply chain issues worldwide.
"As you can imagine, it has huge ripple effects for the businesses that are importing into the United States," Compain said of the bottleneck.
The duo dug into supply chain issues worldwide, including the recent debacle in the Suez Canal, which seems to be the tip of the iceberg. COVID heightened awareness around the issues, as well, with strategies needed to anticipate shakeups. The reliance on digital software and Chinese infrastructure is forcing companies to examine their transpacific trade strategy.
"It is extremely challenging, both operationally and technologically, to make sense of the information about what's moving around the world," Compain said, "And how to move that freight, both most efficiently, as well as again, the recipient of the freight has a good experience about what's coming at them."
Compain noted the data and technology are unreliable. Sometimes customers will get conflicted information from a logistics company that the ship left a few days ago, and it left multiple times from the dock. Then they'll get information the vessel is off Long Beach and, at the same time, the shipment arrived at a warehouse 200 miles inland.
"You can imagine trying to make decisions off that poor data," he said. "It is really at the crux of what is getting in the way."
Follow us on social media for the latest updates in B2B!
Twitter – @MarketScale
Facebook – facebook.com/marketscale
LinkedIn – linkedin.com/company/marketscale
Latest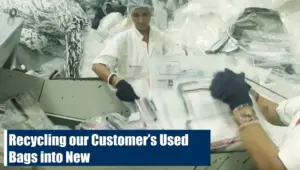 December 6, 2023
This video focuses on EcoLOK4, a groundbreaking product by CONTROLTEK that exemplifies innovation in sustainability. It highlights the process of transforming landfill waste into new deposit bags, with 90% of each bag's material being repurposed trash. This initiative not only reduces waste but also closes the sustainability loop, demonstrating CONTROLTEK's commitment to environmentally friendly […]
Read More