With an Uncertain Economic Climate, Retailers Should Focus on Improving Operational Excellence
As retailers emerge from a three-year-long pandemic, the outlook for the market remains testy: Fears of recession and persistently high inflation are expected to continue to have an effect on consumer spending. On top of this, geopolitical factors in Europe keep supply chain disruptions on most retailer's radar, aggravating existing wounds from COVID's impact on the global value chain. All hope is not lost yet, though. Experts believe that retailers that make an effort to improve retail operations will stay relevant even in these uncertain times. This can be done by focusing on operational excellence.
Simply put, achieving operational excellence means employing better ways to complete orders, design and manufacture products, and even offer customer service. And it doesn't end there — creating attractive store displays and offering a seamless inventory management system are equally important for brands that want to improve retail operations. Furthermore, wholesalers can use business intelligence solutions to identify their most profitable products and anticipate market fluctuations.
Where can retailers start to rethink their current operations and make actionable improvements to their operational ecosystem? Dipti Desai, who founded Crstl with the aim to offer EDI solutions to brands, says the key is robust operational intelligence highlights the importance achieving operational intelligence amid a likely economic slowdown.
Dipti's Thoughts
"In these uncertain times, suppliers will really benefit from a heightened focus on operational excellence. So, for brands that are selling into retail wholesale, or are new to expanding away from direct to consumer and selling into retail wholesale, ensuring that the fulfillment capabilities, both in-house and external, are up to meeting the new challenges and requirements that inevitably come with selling to retail wholesale is important. And, also ensuring the timeliness of B2B shipments is going to be important because invoicing can only happen once the goods have shipped, and often there are net terms involved. So, to ensure that cash flows are streamlined, the timeliness here matters a lot. So, overall, a heightened focus on operational excellence is going to be key in these ongoing uncertain times."
Latest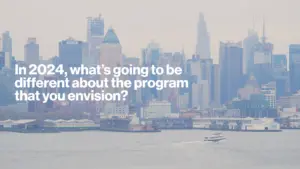 December 1, 2023
In the dynamic telecommunications landscape, Verizon's Partner Network continues to evolve, adapting to new trends and opportunities. For another segment featuring Mark Tina, VP of Indirect Channel Distribution and Channel Chief at Verizon Business Group, he explores exactly what types of significant changes and advancements the Verizon Partner Network will see in 2024. In this […]
Read More