Today in B2B: A Major Partnership 'Kicks Off'
Here are the top B2B headlines for Monday, Dec. 9.
As one might expect given the time of year, we once again start with the retail industry. We're not talking about the hottest gift of the season but how that item gets from point A to point B in time for the holidays.
The latest preliminary employment figures released by the U.S. Bureau of Labor Statistics on Friday tell the story.
Warehousing and storage payrolls increased by 8,000 in November and overall more than 13,000 jobs were added in roles tied to e-commerce during the month.
Amazon was incredibly busy during the holiday shopping spree but that didn't stop the company from announcing a new partnership with the NFL late last week.
America's most popular sports league will use the tech giant's cloud-computing services to help analyze volumes of player health data, with the hope that injuries can be better treated, prevented and even predicted.
Amazon and NFL are no strangers, either. The two are currently in year two of a $130 million deal that allows Amazon to stream Thursday Night Football games on its Prime video service.
Highlighting the trade show circuit this week is the American Geophysical Union's Fall Meeting. The organization is celebrating its centennial year in 2019.
This week's conference will explore the rapid developments in science, new approaches to observing Earth and space, the introduction of new data streams and much more. Stay tuned for developments all week as the conference runs through Friday, Dec. 13.
Latest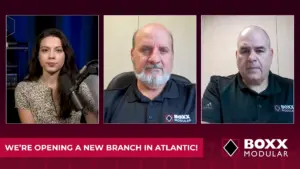 December 4, 2023
In an era where construction innovation is reshaping the industry, modular construction's growth continues to rise. In this episode of Built Modular, Boxx Modular's strategic expansion into Moncton, Atlantic Canada takes center stage. Host Gabrielle Bejarano welcomes Charles Landry and Ray Girouard to explore the implications of this venture. Bejarano, Landry, and Girouard discuss […]
Read More