5 Reasons to Shift from Traditional IT Storage to Object Storage As-A-Service
Is object storage as a service (STaaS) transforming traditional IT storage methods? If so, what are the benefits for organizations to make the switch? Mike Lamb, Product Manager for Solution Infrastructure at ViON, Paul Speciale, Chief Product Officer for Scality and Ronak Chokshi, Product Marketing Manager for Hewlett Packard Enterprise, provided several reasons to consider making a move to object storage as a solution model.
Lamb noted that, as object storage gains in popularity, ViON partnered with Scality and HPE to offer this service to its customers.
"HPE is the hardware the Scality software resides upon," Lamb said. "With the growth of unstructured data, organizations are trying to do a lot more with their data. Object storage is a great play. We've been able to take that and bring it into our customer base and let them have the public cloud experience with on-premise private cloud infrastructure."
Speciale mentioned Scality's role as one of the early players in the object storage space.
"We've seen the growth in the popularity, and there are a number of things that have driven that," Speciale said. "There's a lot of object storage services in the cloud; that's one driver. A few years ago, one of the big inhibitors was the lack of a standard storage protocol and API for talking to object storage. Everybody's now embraced the Amazon S3API. And I think, thirdly, a lot of the application developers have embraced it." From HPE's end, Chokshi put things into perspective.
"What we know so far from our customer base and the research we do at HPE is 70% of apps, and more than 70% of data, is going to remain on-premises. That data isn't moving to the cloud anytime soon. And that means enterprises still need to carry out their digital transformation journeys and implement those use cases that businesses are asking for. At the same time, it just doesn't make sense to move data and use public cloud for any of those applications and data." In these instances, object storage as a service is the way to go.
Latest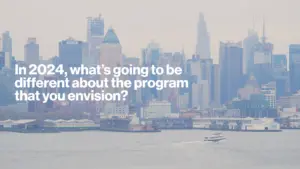 December 1, 2023
In the dynamic telecommunications landscape, Verizon's Partner Network continues to evolve, adapting to new trends and opportunities. For another segment featuring Mark Tina, VP of Indirect Channel Distribution and Channel Chief at Verizon Business Group, he explores exactly what types of significant changes and advancements the Verizon Partner Network will see in 2024. In this […]
Read More