Connecting the World's Broadband Deserts
Consistent and reliable internet connections are critical for our modern economy. So, why, in 2021, are there still large swaths of the Americas without reliable internet access?
Deb Socia, President and CEO of The Enterprise Center, and Jimmy Hall, VP of Engineering & Product Services with 3-GIS, provided insights on where the United States stands today and the challenges to providing such access to all of the Americas.
The Enterprise Center is a non-profit in Chattanooga, TN. It works with the city and the county around economic development and digital inclusion, smart cities infrastructure, innovation and the entrepreneurial eco-structure system. From Socia's vantage point, the U.S. still has ways to go to get people, especially those in rural and underserved communities, connected.
"If you ask the FCC, they say there are at least 21 million Americans without access, but we know that number is pretty low," Socia said. "If you ask Microsoft, they say it's as high as 162 million. It's a pretty wide-range between 21 and 162 million."
If a wider swath of internet access is needed, and everyone knows it's needed, what issues hamper the effort to bring broadband access to those who don't have it? From a local level, Socia sees many impediments from 19 states that don't allow local decision-making around building broadband. "I think the importance of empowering every potential way of solving this problem is important at this moment," Socia said.
From education and remote work access to signing up to get a COVID vaccination, universal broadband internet access is something that everyone needs in all communities. And while the challenges are many, Hall said technology's advancements in network engineering make a difference in driving cost efficiencies.
"What we've found, and the opportunities that have presented themselves, is how you can design and optimize a network through some of the toolsets that we have at our fingertips now," Hall said. GIS, spatial data, and design automation play a role in achieving that universal access goal.
Follow us on social media for the latest updates in B2B!
Twitter – @MarketScale
Facebook – facebook.com/marketscale
LinkedIn – linkedin.com/company/marketscale
Latest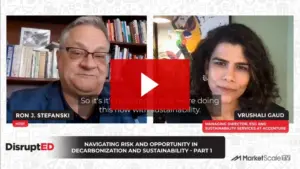 September 26, 2023
The global conversation has shifted dramatically towards decarbonization and sustainability in recent years. With the world experiencing unprecedented levels of disruption, from 5G technology to the challenges of a pandemic, the urgency to address climate change and its implications has never been more palpable. Although most business leaders see the vision of Sustainable Development […]
Read More