DMV Data Breaches Make for Cybersecurity Lessons: Unpacking Threats to Sensitive Personal Data
In an increasingly connected world, cybersecurity is a top priority for enterprise organizations everywhere – and there may be key lessons to be learned from breaches in other sectors of society.
In this MarketScale industry update, host Daniel Litwin was joined by Rachel Bodine, a feature writer for autoinsurance.org, and Robert Siciliano, Partner and Head of Training for ProtectNow, to explore how data breaches associated with the DMV and United States DOT can provide insight about better protecting other organizations.
Bodine recently published a study titled 10 Worst States for DMV and DOT Data Breaches, which shed light on the variety and unpredictability of these cybersecurity breaches. Though DMV and DOT data leaks aren't exceedingly common – over the last 15 years, 235,000 drivers have been affected – they can have a large impact on privacy and confidence. The trio dove into the kinds of information often targeted in cyberattacks, how difficult it is to protect against evolving strategies employed by attackers, the consequences of breaches in different sectors, and more.
The DMV and DOV make a considerable amount of money off of selling driver data to third parties, and not just the police or insurance companies – towers, marketers and advertisers, PIs, and more all benefit.
Last year in Houston, TX, 28 million Texas drivers had data breached and stolen because a software insurance company housing this info was hacked. In the wake of such slip-ups, how can handlers of this data better insulate their cybersecurity from everything from hackers to employee mistakes?
Follow us on social media for the latest updates in B2B!
Twitter – @MarketScale
Facebook – facebook.com/marketscale
LinkedIn – linkedin.com/company/marketscale
Latest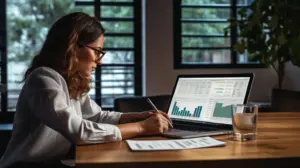 October 4, 2023
The intersection between security and financial acumen often gets overshadowed in a constantly changing economic landscape. While security is essential for safeguarding assets and ensuring continuity, its perceived monetary value is mired in misconceptions affecting company profitability. For many, security is viewed primarily as an expense rather than a potential cost-saver. However, understanding […]
Read More