Examining the Impact of DroneUp Preparing For One Million Package Deliveries Per Year
The small aircraft often used today to capture video or perform surveillance is now a source of delivery in recent years. And the big box retailer Walmart, is the latest corporation to tap into the drone delivery market. As discussed on the latest episode of the podcast show "Drones in America," host Grant Guillot talked with DroneUp CEO, Tom Walker, about the recent news of his company's partnership with the retail giant.
The collaboration is a huge partnership, stated Walker, who said that the drone industry needs these relationships because it encourages changes in the landscape of regulations. Many drone companies have long vocalized displeasure with regulations, which they say hinders growth.
Walker believes the proof of this lies within the drone industry's display of how well it can function when a little less rigidness is given.
"I think one of the things that we've got to do and that is incumbent upon industry to do, is demonstrate that we can operate at scale," said Walker. "And here has to be a moment in time where we are actually limited in our ability to scale further because of current restrictions, and by doing so, I think that will provide necessary information to hopefully push forward some of the policy changes that our industry has been asking for, for a long time," he said.
That includes delivery expansion in various locations and cities, job creation, the implementation and proven success of training programs, and prioritizing safety. But that's all dependent upon how well drone companies illustrate that.
"I really think this is going to go a long way as long as we continue to operate safely and efficiently, to creating both customer acceptance and consumer adoption, but also proving that our industry is maturing quickly," said Walker.
The impact drone delivery will have on the communities it serves is monumental. Particularly for a retailer such as Walmart. Walker maintained that one of the areas DroneUp prioritizes is safety overall, and part of that includes being transparent with major officials in any locale the company will operate in from law enforcement to government officials to non-profit community organizations.
But Walker said DroneUp's joint effort with Walmart will offer more than just delivery service but various drone capabilities.
"One of the things that's unique about our partnership with Walmart is that … not only are we going to be providing delivery, but we're also going to be providing drone services out of these of these hub locations, both to the business community that we've always served," said Walker.
But moreover, more access will create more opportunity for other types of necessary and emergency uses.
"By having these fixed locations, by having operators on staff, by having drones pre-positioned and ready to go, it really for the very first time … will provide the ability to use commercial drones in rapid response," he said.
More Stories Like This:
Latest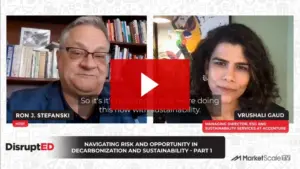 September 26, 2023
The global conversation has shifted dramatically towards decarbonization and sustainability in recent years. With the world experiencing unprecedented levels of disruption, from 5G technology to the challenges of a pandemic, the urgency to address climate change and its implications has never been more palpable. Although most business leaders see the vision of Sustainable Development […]
Read More