Exploring the Spectrum of Wireless Connectivity
The world is on the precipice of a new wave of wireless connectivity, awaiting the oncoming faster generation of instant connection that will make self-driving cars, remote surgery and VR a mainstream reality.
But this leap in speed won't be widespread to start, and it won't happen overnight. So what is the architecture of connectivity today? And how is its construction primed to adapt and evolve?
Ladd Wimmer, Sales Engineer at Telarus, joins MarketScale to explain how we got to our current makeup of connectivity and how it can move us into the future.
"5G doesn't mean all the same thing," said Wimmer, citing T-Mobile's 600 megahertz spectrum, a wave slightly better than what you'd get with 4G.
Connectivity truly is a spectrum, on which an array of connection modalities fall and work in synergy. On that spectrum, everyone falls somewhere different. Underserved communities, for instance, are still in need of a reliable connection, potentially in the form of small cell towers, while metropolitan places are already moving toward an indoor spectrum, creating a unique private network.
Citizens Broadband Radio, or CBRS, for example, fits into the spectrum of 5G. It has the capability to create its own private network where latency is not affected like on a WiFi network.
As connectivity options quickly change, adapt, and evolve, Wimmer said the most important question to be asking right now is, "What makes sense for my business?"
Follow us on social media for the latest updates in B2B!
Twitter – @MarketScale
Facebook – facebook.com/marketscale
LinkedIn – linkedin.com/company/marketscale
Latest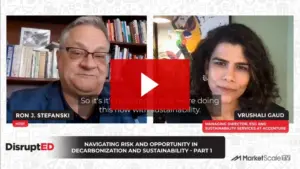 September 26, 2023
The global conversation has shifted dramatically towards decarbonization and sustainability in recent years. With the world experiencing unprecedented levels of disruption, from 5G technology to the challenges of a pandemic, the urgency to address climate change and its implications has never been more palpable. Although most business leaders see the vision of Sustainable Development […]
Read More