Facebook's Outage Was Tough For Social Media Marketers. Here's How They Can Prepare for the Future.
Key Points:
Social media outages affect marketers and make it nearly impossible to reach audiences, especially if a company doesn't have owned media channels.
Companies need to utilize other engagement experiences during a social media outage.
Depending on the breadth of the reach, companies can also lean on email lists to advertise to consumers.
Commentary:
Last week, Facebook's servers went down for an entire business day, putting social media managers in a tough place. With no way to access platforms like Facebook and Instagram, heavy players when it comes to advertising on social media, social media managers struggled to push their company's content or engage with their community. Even though it was a short-term issue, it reflects the overwhelming grip one company and its platforms has on the daily functionings of ecommerce and marketing strategies. Justin Honore sat down with Jon Brodsky, CEO of YouNow, to discuss how social media professionals should plan for an impending social media outage. Whether the outage lasts for merely a few minutes, several hours, or indefinitely, understanding the fleeting stability of these platforms can help prepare for it.
Abridged Thoughts:
This obviously really affects marketers. It makes it almost impossible to reach your audience, especially if you don't have own media like they're not coming to your own website if you don't have an email list.
So what do you do? You use other social media sites. So you come to places like you now? Or you can go and connect with your users and your customers, talk to them live, do a different experience.
Not everything needs to be like, hey, I'm going to blast you with our marketing message all the time. A lot of times people just want to have a conversation, and that's why live streaming has become so popular, and that's why services like you now exist.
Latest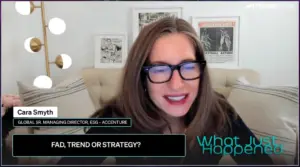 November 30, 2023
The world is in an era where sustainability and responsible retail business practices are increasingly crucial. For the latest episode of "What Just Happened," host Christine Russo further explored the hows and whys of this pressing issue by interviewing Cara Smyth, Global Senior Managing Director for ESG and Responsible Retail at Accenture, and Chair […]
Read More