Greenpeace Report Puts Distance Between Big Tech and Big Oil: Business Casual
After Tuesday's
Greenpeace report
highlighting how Google, Microsoft, and Amazon use AI and warehouse servers to support the location and retrieval of oil and gas deposits from the earth for the likes of Shell, BP, and ExxonMobil—helping big oil profit from climate destruction—a Google spokesperson unloaded a bombshell pledge, confirming that the company "will not build custom AI or machine learning algorithms to facilitate upstream extraction in the oil and gas industry" going forward. Separating itself from other large tech giants, Google is reputed for being one of the greenest large tech firms in the world, employing strategies like buying renewable energy to match its use of non-renewable energy. It is Greenpeace's hope that Google's pledge will inspire other big tech companies to end their AI partnerships with oil and gas firms as well.
On this snippet of Business Casual, host Daniel Litwin considers the implications of Google's pledge, setting two monolithic pillars of industry—big tech versus big oil—against each other in a struggle to preserve and/or exploit earth's resources.
How will Google's pledge affect long-standing relationships between big oil and big tech and contracts already in motion?
Will this move drive a permanent wedge between the two industries?
What will happen to whole divisions of big tech companies that are devoted solely to capturing new oil business?
Is this just talk—more or less a PR push by Google to ward off retaliation and flack as a result of the Greenpeace report—or will they actually walk the climate-change walk?
Will distancing themselves from big oil negatively impact Google's core business?
Will increased scrutiny on big oil companies eventually result in a complete restructuring of their business model and their place in our economy?
Bringing thought leadership to your day, MarketScale's Business Casual keeps you current with the hottest topics and newest trends shaping business today. And for the latest thought leadership, news and event coverage across B2B, be sure to check out our 
industry pages
.
Latest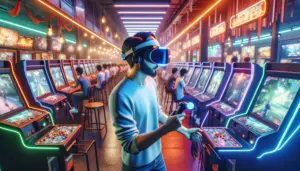 December 4, 2023
In this Pro AV Today soundbite from Dan O'Brien of HTC VIVE, the conversation centered on the significant role of Virtual Reality (VR) and Augmented Reality (AR) in attractions and enterprise applications. O'Brien highlighted the critical need for durable hardware design, tailored to withstand extensive use in location-based entertainment (LBE) operations. Unlike consumer-grade VR headsets, […]
Read More