Vivial Helps Businesses Meet Customers Where They're At – On Their Phones
Whether checking in on friends, reading the news or simply scrolling through social media, it's easy to get sucked into your phone these days.
As the COVID-19 pandemic continues, many people are still under shelter-in-place orders or simply staying home as often as possible to prevent the spread of the novel coronavirus. So, it's the perfect time for businesses to meet consumers where they're at – on their phones.
"It has been quite tremendous the shift that we've seen. There's no question that digital marketing was prevalent prior to this, that's kind of a no-brainer, but the stats … across the board we are seeing, for clients' programs we manage, engagement rates are through the roof," said Laura Cole, Vice President of Marketing at Vivial.
Cole said businesses need to be getting their messages out online, whether it be through Google or other search engines, on social media like Facebook and Instagram, or on mobile with properly formatted content or even messaging campaigns.
"Really, the first thing we recommend for a business is to think through those three aspects – online, social and mobile," she said. "Think about the consumers that shop with you, how they shop and how you want your business to be represented in a way that covers all of the main facets."
Each business is different, so how much they should be spending and what platforms they should be utilizing vary across industries. Luckily, there are experts in place like those at Vivial to help figure out how to reach consumers where they're at and make sure businesses have the right digital marketing strategy.
Be sure to subscribe to our industry publication for the latest news, videos, and podcasts in the Software and Technology Industry.
Twitter – @MarketScale
Facebook – facebook.com/marketscale
LinkedIn – linkedin.com/company/marketscale
Latest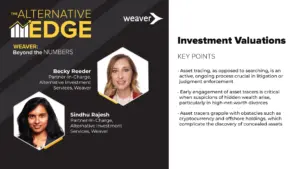 December 4, 2023
In this episode of The Alternative Edge, a Weaver: Beyond the Numbers Podcast, host Becky Reeder, an audit partner and co-leader of the alternative investments practice at Weaver, engages with Sindhu Rajesh, an Alternative Investment Services Partner with Weaver. They unpack the complexities of venture fund valuations, offering critical insights into industry dynamics and best […]
Read More