Microsoft Finally Retires Internet Explorer: Business Casual
Right around the 25th anniversary of Internet Explorer, Microsoft announces the final end to the company's hallmark proprietary browser. To take its place, Microsoft offers a new version of Edge, the browser powered by Google open source software, Chromium. Though these changes won't take effect immediately, the phase out plan eliminates Internet Explorer use completely by August 17, 2021. Business Casual takes a look at the end of a Microsoft era and what it means for the future of internet browsing.
Powered by RedCircle
According to The Independent, Microsoft's complete move to a Google fueled browser may have larger ramifications. Google's Chromium already powers a number of leading browsers. Adding to the Chromium arsenal gives Google more influence over browser best practices like new features, usability, and privacy practices.
Join hosts Daniel Litwin and Tyler Kern on this Business Casual snippet as they consider how the thinning of the browser market will impact users and tech giants. As more browsers gather under one umbrella, for there to be any further shake-ups, it may be up to users to demand what they value in a browser, or more realistically, another major tech company with the resources and capital to challenge Google's dominance.
Latest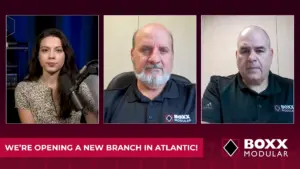 December 4, 2023
In an era where construction innovation is reshaping the industry, modular construction's growth continues to rise. In this episode of Built Modular, Boxx Modular's strategic expansion into Moncton, Atlantic Canada takes center stage. Host Gabrielle Bejarano welcomes Charles Landry and Ray Girouard to explore the implications of this venture. Bejarano, Landry, and Girouard discuss […]
Read More