The Importance of Unified Threat Management
Sean Ferrel, Chairman & Founder, Managed Solution, and Dominique Singer, Vice President, Business Development for Cybersecurity, Telarus recognize the daily risks businesses face from cyber threats, and they know the importance of unified threat management.
The risks have increased with more and more businesses' employees working from home due to the coronavirus pandemic. Now is a critical time for companies to evaluate their cybersecurity and ensure they have the best unified threat management strategy in place.
"The mindset for building a good cybersecurity strategy should be business-first, focusing on business outcomes," Singer said. "Throwing up the white flag to cybercriminals doesn't have to be the case if you do security smartly."
In Ferrel's world, he refers to various layers of tools used to protect customers. There are tools to protect the company from external threats trying to hack in. There are tools needed to protect internal processes, such as emails and conferencing tools employees use. Then, businesses need a unified threat management system to pull together all of these threat identification and prevention tools. The third layer is the SOC operation to mitigate the threats these tools identify.
A company can deploy all of the right tools and technology to prevent cyberattacks, but do they have the right people with the right skills to manage that technology?
Time and time again, both Ferrel and Singer experience situations where companies that don't have the right people in charge of cybersecurity fall victim to cyberattacks, even when they had everything else in place to prevent them.
And processes are another ingredient Singer and Ferrel believe is critical for the successful deployment of these security measures. Singer said companies often consider adding more security tools to deploy when they should be looking at refining processes or leveraging a service provider who can more effectively manage those tools.
Follow us on social media for the latest updates in B2B!
Twitter – @MarketScale
Facebook – facebook.com/marketscale
LinkedIn – linkedin.com/company/marketscale
Latest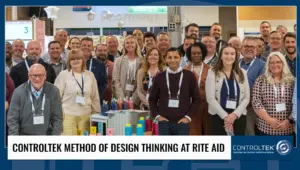 December 4, 2023
The video showcases a dynamic workshop titled "CONTROLTEK Method of Design Thinking at Rite Aid," highlighting the collaborative and innovative efforts between CONTROLTEK and Rite Aid teams. It features scenes of brainstorming, prototype development, and group discussions, emphasizing CONTROLTEK's customer-centric approach to problem-solving and innovation in retail solutions. The workshop demonstrates how cross-functional teams […]
Read More