The Open Source Revolution for Call Recording Technology with Steve Kaiser of OrecX
Every day, people across the world receive phone calls that often begin with "This call will be recorded for training and quality purposes." While this typically doesn't concern the majority of folks, you're often left wondering why these companies choose to record their calls. For contact centers and Business VoIP Providers, call recording capabilities can help to improve processes in several ways.
Whether training a new employee or evaluating an existing employee, call recording at contact centers allows these businesses to improve the quality of calls by pinpointing performance issues that can be corrected, and showcasing successful, quality calls to help other agents achieve desired results. Call recording can help contact centers track vital data derived from interaction between agents and customers, or serve as a verbal contract, providing resolution assistance when disputes occur and legal aid when irritated customers choose to litigate.
On today's MarketScale Software & Technology Podcast, Steve Kaiser, CEO of OrecX joins us to discuss the history of call recording and the impact advances in technology have had on this niche business. Steve began his career in the call recording sector back in the 80's with reel-to-reel machines, which shifted to VHS systems, and finally progressed to faster connected computer networking systems that have evolved into the black-box solutions of today. However, these systems are often limited in their capabilities and functions, and quite costly.
"You invest in all this recording technology, sometimes millions of dollars, and you want to have access to data that you've created on that platform—you have to get special permission to access your data and pay a fee and get special services to do that. And so, that's kind of the model that's out there today. Sometimes that model is fine for the person, whoever wants to use it. But the analogy would be is like if you bought a car and you provided the maintenance for it, and you're allowed to use that car just to go up to the grocery shopping, and maybe get yourself some clothes. But you say, 'I want to go use that car for a road trip to go skiing,' and they say, 'Well, it's going to cost you extra to use your car that you already own and pay maintenance on to use it for another purpose,'" Kaiser said.
"And so, what we see in the marketplace, and it's a growing trend, are Fortune class companies start using words like, 'We want independence. We want control. We want agility. We want to be able to leverage third party platforms to do other things that aren't supported by current vendor strategies, these proprietary strategies.' So, we see more and more of that happening at higher and higher levels."
OrecX call recording and quality monitoring software offers enterprises a full suite of capabilities comparable to what more expensive software provides at a fraction of the cost. Based on open source architecture, OrecX software interoperates easily and very successfully with almost any existing environment, scaling thousands of users and boasting compatibility with virtually every PBX via their open API.
For the latest news, videos, and podcasts in the Software & Technology Industry, be sure to subscribe to our industry publication.
Follow us on social media for the latest updates in B2B!
Twitter – @TechMKSL
Facebook – facebook.com/marketscale
LinkedIn – linkedin.com/company/marketscale
Latest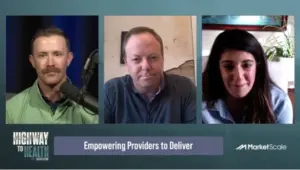 December 6, 2023
The healthcare industry is undergoing a significant transformation, driven by the need to improve patient experiences, access, and outcomes. Amidst this shift, contract lifecycle management (CLM) is emerging as a critical tool for healthcare providers. With the increasing pressure on cost management and compliance, healthcare organizations are seeking solutions that streamline operations and enhance […]
Read More