What We Can Expect from 2022's GEO Week
GEO Week is set to take flight in just a couple of days and the show's exhibit floor is sold out, even with the lingering Omicron challenges, meaning the UAV and Survey industries ares amped to get back to business and share in a year+ of massive industry movement and validation for drones.
We caught up with Diversified Communications Editorial Director, Jeremiah Karpowicz, as well as Editorial Analyst and Conference Chair, Carla Lauter, to learn what we can expect from this years LiDAR extravaganza.
Abridged Thoughts:
"What is truly neat about GEO Week is that these are people who largely have not played huge roles at those mainstream drone conferences. What a treat it will be to hear from these people and to learn about their expertise, and it's always great to broaden and hear from different viewpoints, so I was really excited to see the lineup." – Carla Lauter
"We actually have had a session with the name GEO Week for the past two years as part of the IMF conference. When we postponed, initially made that into a webinar as well because this is on the top of everybody's mind, right?
We've seen this big evolution in LiDAR technology and the sensors themselves, but also in the ways in which they can be delivered, as you know, as a payload on UAV and fixed wing aircraft and everything in between. And so we wanted to put together a panel where we could really discuss what the trends are, what types of things might be theoretical, which might be actually practical, something that people can use tomorrow" – Jeremiah Karpowicz
More Stories Like This:
Latest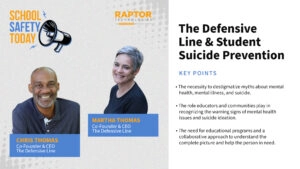 September 22, 2023
Student suicide prevention is a paramount concern among mental health providers. For one organization, student suicide prevention is more than a concern: it's their mission. The alarming rise in mental health crises among youth has become a pressing concern in recent times. With the complexities of modern life and the challenges of the digital […]
Read More