Authenticity: Connecting Through Genuine Belief
In the intersection of art and commerce, authenticity is the bridge that connects deeply with audiences and customers alike. Actor and Keynote Speaker Greg Bryk, known for his compelling performances, elucidates this concept in his recent video. He stresses the importance of personalizing material in acting to evoke genuine emotion, a principle that applies equally to business-to-business (B2B) marketing. The essence of this video lies in the compelling argument that both actors and brands must wholeheartedly believe in their message to engage and resonate with their audience. Bryk emphasizes that the audience's ability to connect with the content is rooted in its truthfulness, warning against the ineffectiveness and rejection of insincere storytelling.
"People don't want to be manipulated. They don't want to be fooled. They want to be taken on a journey. They want to be told a story, but they want that story to be true." – Greg Bryk.
Latest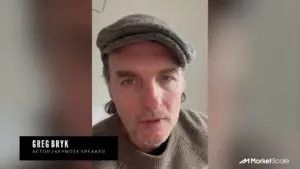 November 30, 2023
In a crowded marketplace, authenticity could be the strongest differentiator in standing out from the competition. Actor and Keynote Speaker Greg Bryk shares his insights on making a mark, on-screen and in the B2B arena. Bryk emphasizes the power of authenticity over pandering to the audience. He explains, "The way to stick out from […]
Read More