How AI Driven Ticket Pricing is Increasing Attendance and Revenue
On this episode of Salary Capped, host Tyler Kern was joined by Robert Smith, Co-Founder and CEO of Event Dynamic, for a discussion on how the start-up is working with teams to eliminate the manual process of ticket pricing with AI and better forecast what fans would be willing to spend on an event.
Sports organizations are constantly at the mercy of the sports gods in what will drive customer value and affect ticket pricing, meaning they need to be nimble in pricing to account for that. A recent injury to star quarterback Dak Prescott of the Dallas Cowboys, for example, had an immediate impact on the pricing of tickets for future games as fans experience uncertainty about what they can expect from the team.
Event Dynamic works with organizations to maximize their operation through pricing tickets not for revenue but attendance. The company has seen success in getting more fans through the turnstiles by analyzing what fans are willing to spend. One of the success stories from Event Dynamic was working with a collegiate football team that set a season record for the most ticket revenue the program has brought in via pricing down to match what it would take to get moderate fans out in large numbers.
As fans are re-entering stadiums, each organization has the precarious problem of how to account for social distancing in stadiums and blocking off seats in real time based on how fans are buying up seats. To account for this, Event Dynamic has introduced its Stadium Configurator, which allows the teams to input the requirements their jurisdiction has for social distancing and to adjust the available tickets accordingly.
The system is constantly updating the seating chart based on how fans are purchasing tickets to ensure that fans who are not in the same party will not be seated next to each other.  While this tool is a much-needed solution for 2020, Smith admits he hopes the company is able to get rid of that product in the near future.

Latest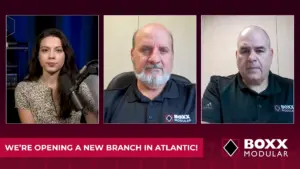 December 4, 2023
In an era where construction innovation is reshaping the industry, modular construction's growth continues to rise. In this episode of Built Modular, Boxx Modular's strategic expansion into Moncton, Atlantic Canada takes center stage. Host Gabrielle Bejarano welcomes Charles Landry and Ray Girouard to explore the implications of this venture. Bejarano, Landry, and Girouard discuss […]
Read More