How Data is Changing the Future of College Football Recruiting
Welcome to Salary Capped, presented by MarketScale, where we explore the intersection of business and sports. Each week, host Tyler Kern will chat with the leaders, marketers and innovators who are powering sports into the future.
Recruiting in college sports has become a big business, particularly since the turn of the millennium, but it is poised to possibly see its biggest boost yet.
Traditionally, college football recruiting has been all about a programs' networking ability and building a stable of coaches whose opinions you trust. But Zcruit is aiming to be a go-to resource for college programs looking to find the exact players they are looking for, even when they might be out of the school's traditional recruiting network.
The football-focused sports startup Zcruit has built a system that seamlessly integrates a large volume of constantly updating data to allow coaches to search by exact specifics they are looking for in a position, such as height or weight range, 40 yard dash time, or the total amount of yards from scrimmage.
Kern sat down with the Founder and CEO, Ben Weiss, to discuss how the company wanted to become the go-to resource for college programs around the country in preventing talented athletes from going unnoticed.
In addition to being a data pipeline for coaches, Zcruit wants to simplify the recruiting process by being able to manage the full process from their platform. A program can search players, manage their contact, see where they rank to other offers the student has, and monitor their social media for contact from other schools – all from a single platform.

Latest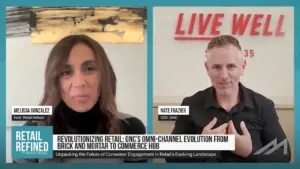 November 29, 2023
The transformation from a traditional brick-and-mortar store to an integrated commerce hub is crucial in the fast-evolving retail landscape. GNC's omni-channel evolution epitomizes this shift, blending in-person and digital experiences to meet the contemporary consumer's demands. But what does this mean for the future of retail? "Retail Refined," hosted by Melissa Gonzalez, welcomes Nate […]
Read More