How Pat Mahomes and NFTs Bring New Life to Fashion & Sports Communities
"Sports collectibles have been around forever, and they're never going to go out of fashion."
The future of the NFT market is up in the air after the market bottomed out, especially for NFT art sales. Even with a hype plateau for non-fungible tokens, major brands continue to invest in NFT collectibles while both practical and niche use cases for them expand.
On this episode of MarketScale TV, Voice of B2B Daniel Litwin sat down with James Zwadlo and Chris Levett, co-founders of Impossible Brief, a creative agency for media in many forms, including cover art, music videos, show visuals, branding, and most recently, NFT offerings. Impossible Brief works with acts like The Chainsmokers and Coldplay and is responsible for the multi-million dollar Patrick Mahomes NFT that broke records this year. The trio discussed some of the unique and high-selling NFT offerings from the last few months and whether or not NFTs have a permanent role in the fashion, sports, and broader collectibles industry.
Since May 3, NFT transactions dropped nearly 90 percent, according to reporting from research firm Protos, indicating the initial hype of the market is done. High-profile memorabilia and collectibles are the leading and more resilient of the main markets, Protos' reporting noted. NFT collectibles will need to consider what they put front and center for their offerings or platform to remain relevant.
"Sports collectibles have been around forever, and they're never going to go out of fashion," Zwadlo said. "For the NFT space specifically, we try to do something unexpected and evolving the actual playing card."
Zwadlo, Levett, and Impossible Brief are no strangers to evolving something simple into something extraordinary. It's reflected in their recent NFT work with the Patrick Mahomes NFT, "The Museum of Mahomes," which became the highest-grossing sports NFT drop ever, bringing in more than $3.7 million in revenue. In general, though, the value proposition for athletes or sports teams in the market might not be as valuable after the market peak, which Zwadlo & Levett expand on in detail.
The trio also discuss how NFTs could create opportunities to engage fashion communities, using Zwadlo and Levett's fashion endeavor Overpriced as context, the first NFT-minted fashion line and a social commentary on the strange dynamics that come from a union of money and art.
Follow us on social media for the latest updates in B2B!
Twitter – @MarketScale
Facebook – facebook.com/marketscale
LinkedIn – linkedin.com/company/marketscale
Latest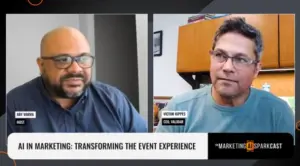 November 28, 2023
AI has been gradually changing the landscape of event technology at a very rapid pace. In an industry where staying ahead of technological trends is crucial, AI's impact on marketing and event management has become increasingly significant. As witnessed in the rise of account-based marketing and enhanced personalization, AI is effectively reshaping how events […]
Read More