Marshall Electronics Responds to Esports' Massive Growth with Cutting-Edge POV Cameras
As we head into the middle of this decade, the eSports industry is witnessing an unprecedented boom. Valued at $1.42 billion in 2022, it's projected to skyrocket to $4.47 billion by 2030, thanks to the rising adoption of smart devices and POV cameras, internet connectivity, and strategic partnerships like that of Microsoft and NVIDIA​.
COVID-19 also provided an unexpected boost to the industry. As traditional sports came to a halt, corporate sponsors turned to eSports, and viewership on streaming platforms soared. In fact, the League of Legends World Championship attracted more than 100 million viewers​​.
Esports continues to evolve, with companies like Marshall developing cutting-edge technology, such as Point of View (POV) cameras, to enhance the gaming experience and bring fans closer to the action. These cameras not only capture the thrill of competition but also help streamline live streaming to platforms like Twitch, reinforcing the industry's resilience and adaptability in the face of cybersecurity concerns and other challenges.
Tod Musgrave, Sr. Director of Cameras at Marshall Electronics and a pioneer of POV cameras, offers his insights into the company's latest developments.
Tod's Thoughts:
"Marshall POV cameras have been used in live production and sports production for over a decade. One of the big applications recently is eSports. So, over the last five years, eSports has really grown massively, obviously globally. But Marshall, specifically for the POV cameras put over the monitor, capturing the player's face. As player cameras, that excitement during competition, wins and losses and defeats, all that storytelling capability, capturing the face of the gamer, is really essential in eSports production. And Marshall's been a big part of it ever since the beginning.
Marshall now has versions in SDI for SDI workflow, switching and such, HDMI, also now with IP and NDI HX3, where now you can stream live to Twitch or other gaming media outlets and streaming outlets. But having that capability of IP, and even with cloud production, is very unique for little POV cameras of this size."
Latest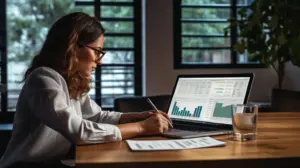 October 4, 2023
The intersection between security and financial acumen often gets overshadowed in a constantly changing economic landscape. While security is essential for safeguarding assets and ensuring continuity, its perceived monetary value is mired in misconceptions affecting company profitability. For many, security is viewed primarily as an expense rather than a potential cost-saver. However, understanding […]
Read More