Netflix Puts Trademark Boots on Space Force Name, Edging Out U.S. Military: Business Casual
Powered by RedCircle
While fans and critics may be clashing about the comedic success of the new Steve Carrell and Greg Daniels Space Force series that debuted on May 29th, Netflix is apparently winning the planetary battle against the U.S. military to trademark the show's name. Starring Carrell as a decorated general tapped to lead a newly formed sixth branch of the US Armed Forces, Space Force is a 10-part thinly-veiled satire series of the Trump administration following the exploits of a motley crew trying to put "boots on the moon again" in an effort to ensure total space dominance.
Co-hosts Taylor Bagley, Tyler Kern, Daniel Litwin take on this somewhat farcical situation in this segment of MarketScale's Business Casual. Reportedly, Netflix filed for trademark applications for the Space Force name as early as January 2019, including filings in Australia, Mexico and parts of Europe, while the U.S. Air Force has only a pending application in the U.S. for an "intent to use". Further, in a drolly similar intergalactic trademark situation, in January of this year, the U.S. Space Force appeared to have boldly gone where only Star Trek had gone before when they unveiled their logo which many likened several of its design elements to the "Star Trek Starfleet Command insignia".
Litwin, Kern, and Bagley discuss how Netflix's trademark of the Space Force name could be problematic particularly as it pertains to the sale of memorabilia, apparel, or other items featuring the term "Space Force", the government's laxity when it comes to registering military asset trademarks, and other military-based trademark conflicts with companies like Paramount and Disney.
Keeping you informed of the newest trends and the hottest topics in B2B, tune into the Business Casual podcast each Wednesday and Friday. And for the latest thought leadership, news and event coverage across B2B, be sure to subscribe to our MarketScale Radio channel on either Spotify or Apple Podcasts where you can find all of our Business Casual, Ratify and other contributor shows; or go to Marketscale.com/Industries to view all of our live video and classic article content.
For the latest news, videos, and podcasts in the Sports & Entertainment Industry, be sure to subscribe to our industry publication.
Follow us on social media for the latest updates in B2B!
Twitter – @MarketScale
Facebook – facebook.com/marketscale
LinkedIn – linkedin.com/company/marketscale
Latest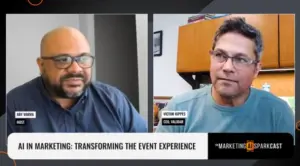 November 28, 2023
AI has been gradually changing the landscape of event technology at a very rapid pace. In an industry where staying ahead of technological trends is crucial, AI's impact on marketing and event management has become increasingly significant. As witnessed in the rise of account-based marketing and enhanced personalization, AI is effectively reshaping how events […]
Read More