If a College Athlete Proves Their NIL Marketing Worth, Show Them the Money
The battle over NIL marketing (names, images, and likenesses) is escalating with The Brandr Group's legal action against Electronic Arts (EA) over using college athletes' NIL in a new video game—the first of its kind since 2013. College athletes are caught in the crossfire, watching the debate over their compensation rights. Brandr, with ties to over 65 NCAA football programs, claims EA unlawfully bypassed their contractual rights, offering athletes a mere $500 for their in-game appearance. In contrast, EA allegedly gives schools up to $104,900 based on their prominence. As the courtroom drama unfolds, the future of college athletes' rights hangs in the balance.
And it's not just college athletes who have a stake in this NIL marketing fight; non-college athletes are getting involved with brand deals. In a surprising twist, Kwik Trip has ventured into the NIL marketing arena, partnering not with a student-athlete but with Will Hazeltine, a mellophone player from the UW-Madison Marching Band. Hazeltine's genuine passion for Kwik Trip, equating its significance to Wisconsin's iconic symbols, showcases the expanding landscape of NIL partnerships beyond traditional athletes.
With these rights issues in the courts, are there NIL marketing opportunities for smaller indie video game developers (AKA, not EA) to secure partnerships with college athletes and non-athletes?
Maribeth Kuzmeski, Ph.D., Associate Professor of Marketing at Oklahoma State University, feels that those students with a significant social media presence and following their brands generate value worthy of compensation.
Maribeth's Thoughts
"So, pending this lawsuit and all the things that are going on with the Brander Group, you know, NIL, the whole definition is that a student-athlete could get paid for their name, image, and likeness, which is a video game, right? If people are playing with the name on the back of some, you know, student-athlete who's playing at Oklahoma State or wherever it is, they should get paid for that.
Right now, it is, it's licensing, and there are all sorts of issues with it, but in, I guess, in summary, student-athletes, if this would be perfect for them, they haven't really added it to part of their strategy, at least not a lot of students, because of all of the problems that are existing. Yeah, you know, it all comes down to how many followers a student-athlete has in their Instagram or threads or X or whatever it is, and it seems like the more followers they have, they could be a walk-on, but they're a student-athlete. They could be the star athlete and have lots of followers, but the businesses want the followers because they want the reach, and we've worked hard with our student-athletes at Oklahoma State to figure out, you know, what's a good business to work with? Is it a business? If you're from somewhere in Texas, is it a business based back there, or is it someplace in Stillwater? And many of the deals have been more sponsorship deals, like they want to drive people into their business or sell a certain kind of merchandise or product for that business, so it's a real marketing partnership. That's really what it is, and so that's been where we see most of the energy.
Now, we've also seen quite a bit of merchandise sales, like if a student-athlete creates merchandise, or what we've been doing for our student-athletes is creating "shirzies," and we sell those and give all the proceeds back to the student-athlete directly. Oh, I think it's absolutely a possibility.
We just don't have a big track record to say, well, this is how it would work, because we really don't know how it would work, but video games are very popular. Sports video games are very popular, and I see this as a big opportunity if they can figure out some of the legal aspects to this, and who's getting paid, and how they're getting paid, and any licensing issues and things like that, but I think it's a really great strategy. It just hasn't happened to the degree that I think maybe people would have speculated in the very beginning that it would. Yeah, absolutely.
I mean, again, if we can get through some of the legal clearances, I think that it really would be a made-for-NIL type of a deal, and I think that it would be popular. I think it would be very popular, but it's right now; it's held up with all of these things that no one has been able to address yet, because it hasn't really happened yet. It wasn't available, and now that it is, it's like, oh, what a great idea, and then everybody puts the brakes on. So once that gets figured out, I believe that what you're just talking about with smaller indie developers is an excellent opportunity for both them and the student-athlete.
It has to be a good marketing partnership. I'm a professor of marketing, and it's got to be; this is not a fundraiser; this is not; I'm going to give some money to this student-athlete. No, it's got to be a business deal where it's a win-win. The student-athlete puts in a certain amount of time and effort and uses their platform in exchange for helping a business do whatever those objectives are. Those objectives need to be very clear so that the business knows, did we reach them, or did we not reach them? And, you know, knowing, okay, it's going to take X amount of social posts, or it's going to take this much reach for us to get what we want.
Being really specific is very important for a small business, and a lot of times, it's just, well, I want to drive some business into my, you know, pizza shop or something. Well, that's great, but we have to be specific about it to determine, just like we would with any marketing campaign, is this successful or not? What does it mean to be successful? What kind of revenue do you need to generate? And in exchange for that, was it a good ROI, you know, with what you're paying that student-athlete? We have to change our mindset about NIL because it differs from the athletic department raising money. It is not really about collectives raising money, although that is at the forefront, but NIL itself is name, image, and likeness. Businesses can use it as a marketing opportunity to reach the platform of followers that student-athletes have. Often, they've got big, and they've got really engaged following followers, and so it's a great way of executing marketing strategy."
Article by James Kent
Latest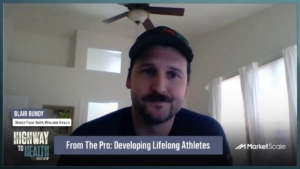 September 20, 2023
Blair Bundy, the Director of Player Health for the Milwaukee Brewers, recently shared his insights on the importance of nurturing lifelong athletes from a young age. He emphasized that the ultimate goal for children participating in sports is not just about winning games but about fostering physical and mental resilience. Such individuals lessen the strain […]
Read More