What's Driving Renewed Growth Among Toymaking Giants?
Last year was a rough one for the toy industry, and juggernauts like Mattel and Hasbro were no exception.
However, with Q2 revenue released, both of those toymaking giants outperformed forecasts and showed resilience and growth as they attempt to rebound from that rocky 2020.
So, what's driving this growth? Will it last? How are media and IP investments complicating the landscape and shaping competition not only among established powers, but for newer entrants into the market and digital natives, as well?
To find out, Voice of B2B Daniel Litwin was joined for this episode of This Week in B2B by James Zahn, Deputy Editor for The Toy Book, a leading trade magazine that's spent the better part of the last four decades serving the toy industry and reporting on toys, games, video games, licensing and more.
Hasbro posted a 54% boost in quarterly revenue for Q2, while Mattel's Q2 revenue went up 40%. In both cases, analysts were surprised by this surge in revenue for the two companies, but also for the industry as a whole.
But should they have been? With titles like Nintendo's Animal Crossing for the Nintendo Switch selling more copies in a single month than any game had previously and mega IPs like Marvel under the umbrella of these toy giants, it's possible this growth is simply a sign of more to come for the duo.
Latest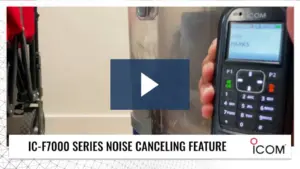 September 27, 2023
In this brief product demonstration video, ICom's IC-F7000 Series receives a mic test of its noise-canceling feature. Through the two demonstrations it is clear the IC-F7000 removes loud ambient noise for clear two-way communication.
Read More