Reacting to Your Customer: The Art of Listening and Adapting
In today's fast-paced digital age, the ability to adapt and respond to feedback is paramount for content creators and businesses alike. Drawing parallels from the acting world, Greg Bryk emphasizes the importance of effective communication in reacting to your customer.
In this insightful video, Greg Bryk, renowned actor, and keynote speaker, delves into the essence of reacting in content creation. He underscores the significance of listening to your audience or client and allowing their feedback to shape how you deliver your message without altering its core essence. Bryk stresses the need for adaptability, openness, and commitment to storytelling while remaining flexible in its presentation.
Latest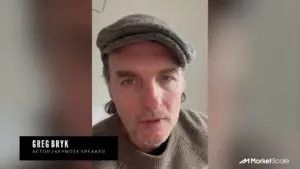 November 30, 2023
In a crowded marketplace, authenticity could be the strongest differentiator in standing out from the competition. Actor and Keynote Speaker Greg Bryk shares his insights on making a mark, on-screen and in the B2B arena. Bryk emphasizes the power of authenticity over pandering to the audience. He explains, "The way to stick out from […]
Read More