How Social Media Influencers Took this Netflix Show to #1 in 30 Countries
Commentary:
Launching a new show, especially in the age of streaming platforms, is no easy task. How do you make your show stand out from the thousands upon thousands of other options at viewers' fingertips? Utilizing social media to evangelize content is one of the go-to strategies; it's standard marketing practice to build an entire account ecosystem for a piece of media, with behind the scenes content, trailers, and opportunities for fan engagement. An influencer campaign, though, is one marketing strategy that not everyone seems to get right, making it an avenue for experimenting with targeted audience building.
For the Netflix original series, Blood & Water, influencer marketing took center stage to spread the word on this exciting but still obscure show; with no recognizable IP to leverage or Hollywood A-listers fronting the show, it turned to marketing and advertising firm MOCEAN to develop an influencer-led approach for that boost of authentic engagement and hype to build anticipation. After the campaign, the South African show had reached Top 10 status on Netflix's show roster in over 30 countries, due in part to the millions in engagement it drew on Tik Tok and Twitter via the use of targeted influencers, social-focused trailers and character-driven content. We spoke with Jill Whalen, Social Director at MOCEAN, about the challenges and rewards of using this technique for a television show.
Abridged Thoughts:
One of the most challenging aspects to consider when drafting an influencer campaign is that content and trends are constantly changing and evolving. So, what's popular one day will likely be old news the next, and no one wants to be late to jump on a trend. So it's all about finding either one of two things: influencers and clients who are down to make content on the fly and jump on those opportunities—or coming up with ideas and formats that are evergreen but with a timely twist. So, that can be tricky sometimes, but if you have a healthy obsession with the internet as all social media managers do, then it's a piece of cake. 
More Stories Like This:
Latest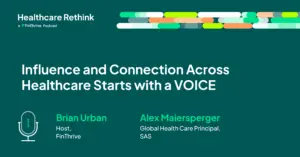 September 29, 2023
In the latest episode of the Healthcare Rethink podcast, presented by FinThrive, host Brian Urban sits down with Alex Maiersperger, the Global Principal Healthcare at SAS. Their conversation charts the role voice plays in influencing and connecting the healthcare industry. Maiersperger, who co-founded the Advancement League, shares his journey from being a healthcare optimist to […]
Read More