The Influencer Marketing Industry is Booming. Here's How Brands and Creators Can Find Success.
Two intersecting trends from the last year and a half are pushing the value of influencer marketing higher and higher. On one hand, an increase in accessible equipment and more platforms for posting creative content are skyrocketing the number of content creators. Some surveys signal as much as 40% of the entire global population is a content creator of some kind. On the other hand, a validation of online sales channels has been a boom for the larger influencer marketing industry, pushing it to $13.8 billion in value worldwide.
Successful influencers, and in turn capital-amassing influencers, have been able to turn authentic, niche and loyal audiences into valuable pools for brands' marketing campaigns. Success, though, proves to be elusive for many, and requires a difficult balancing act. How do you stand out in this influencer marketing landscape as a content creator, balancing the professional outreach of turning your content into an enterprise avenue for marketing ROI with the relatability that connects with an online audience?
We asked two professionals innovating in the influencer marketplace how they see strategies shifting for both the creators as well as brands. We spoke with…
What Strategies Are Turning Brand Deals into Success for Influencers?
What Strategies Are Turning Brands into Appealing Influencer Partners?
More Stories Like This:
A new study from Shure & Futuresource shows nearly 40% of people self-identify as content creators.
For entrepreneurs looking to stand out as they build a new company in today's tumultuous business climate, social media has proved itself as a powerful tool for engagement, brand-building, and developing trust between company and customer
Latest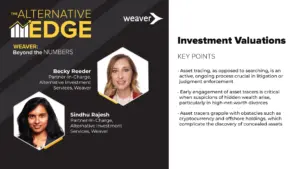 December 4, 2023
In this episode of The Alternative Edge, a Weaver: Beyond the Numbers Podcast, host Becky Reeder, an audit partner and co-leader of the alternative investments practice at Weaver, engages with Sindhu Rajesh, an Alternative Investment Services Partner with Weaver. They unpack the complexities of venture fund valuations, offering critical insights into industry dynamics and best […]
Read More