Why Macro Influencers Are Leading the Influencer Marketing Boom
The last year was lightning in a bottle for influencers. Statista research shows that, at a high level, the influencer marketing industry grew substantially since the pandemic, more than doubling to $13.8 billion in 2021. Not only does this mean an influx of influencers securing brand deals, but an increase in companies focusing on influencer marketing in their larger marketing campaigns.
However, there are still clear winners and losers, and no single path to success. What are some of the key factors differentiating the successful influencers who've capitalized on their platform for brand partnerships? What strategies are working best for them and why? For answers, we turned to Joe Sinkwitz, Co-Founder & CEO of Intellifluence, a smart SaaS platform for macro influencers. Here's his analysis on what's separating successful brand-sponsored influencers today, and where businesses, big or small, should seek to invest in macro influencers as the content creator market gets more saturated.
Abridged Thoughts:
So there's something we learned rather recently in Intellifluence running an influencer compensation expectations report over the past summer, where the linear chart that one usually expects of 1 to 2 pennies per follower no longer is happening once there's certain breakaway points. At about a million plus, the macro influencers, they're starting to see their wages increase further. The reason for that is supply and demand. There is more demand for those type of influencers than there is actual supply. So they're benefiting just by the virtue of being large. What strategy is working best for them, though, are focus, focus, focus. By just looking at specific niches and generating content only for those niches, not spraying around and doing all sorts of reviews, they're able to command large brand partnerships, which is just lining their pocketbooks.
Latest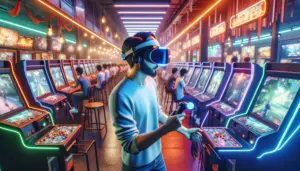 December 4, 2023
In this Pro AV Today soundbite from Dan O'Brien of HTC VIVE, the conversation centered on the significant role of Virtual Reality (VR) and Augmented Reality (AR) in attractions and enterprise applications. O'Brien highlighted the critical need for durable hardware design, tailored to withstand extensive use in location-based entertainment (LBE) operations. Unlike consumer-grade VR headsets, […]
Read More