Navigating the Growth Potential of Influencer Marketing
Trent Farnes, Founder of Social Stance, connects high profile celebrities with brands for Instagram Loop giveaways to improve said brand's social media presence. An Instagram loop giveaway is a strategy for amassing a large amount of followers and the process is rather simple. A group of influencers highlight valuable products that Instagram users have the opportunity to win if they follow a large set of participating accounts on the platform.
Smaller brands in particular have found success with this strategic marketing initiative, gaining a larger reach and exposure with new audiences. Of course, brands risk followers dropping off once the giveaway is over. An initial surge can see a dip post-giveaway, which is leading brands to strategize how to turn loop giveaway momentum into long term engagements.
For Farnes, loop giveaways provide affordable solutions for brands looking to capitalize on influencer marketing, without breaking the bank, "We found that that old model of the pay to post or pay to play wasn't working for some of our internal brands. You know, we would reach out to influencers, we'd find out how much it cost for them to do a post about our brand, and then the majority of the time we weren't seeing the return back as far as sales," Farnes explained. He continued, "That kind of opened up our eyes to see if there were other ways of marketing with influencers online."
He feels another problem a lot of brands are seeing with the sponsored content avenue, is that they don't have it in their marketing budget to spend $30,000 to $100,000 to work with influencers. Farnes has found that for some brands, loop giveaways can offer better results at a fraction of the cost.
Follow us on social media for the latest updates in B2B!
Twitter – @MarketScale
Facebook – facebook.com/marketscale
LinkedIn – linkedin.com/company/marketscale
Latest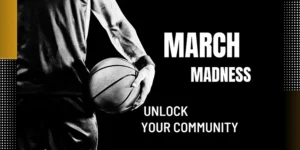 March 31, 2023
Over three weekends every March, America catches a fever. March Madness is back, in full swing, and if the latest ratings are any indicator, fans are watching college basketball like never before. As marketing and sales professionals is there anything that we can learn from marketing like March Madness?    Naturally, brands, marketers, and advertisers […]
Read More